Azerbaijan sees defense industry production increase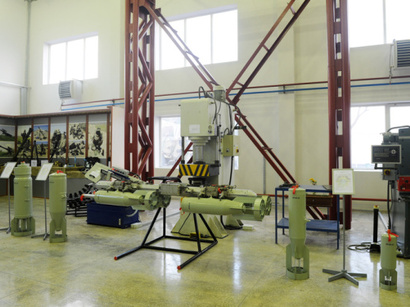 By Aynur Jafarova
The total production volume of Azerbaijan's Defense Industry Ministry increased by 1.7 times in the first quarter of 2014 compared to the same period in 2013.
The news was announced at the board meetings of the ministry's enterprises dedicated the results of the first quarter of 2014, held on April 28.
During the meetings held under the chairmanship of Minister Yaver Jamalov, the participants discussed the results of industrial, financial, and economic activities, as well as the future tasks of associations and enterprises.
The range of products for defense purposes delivered to the customer has increased by 1.3 times compared to the same period last year. The production of goods for civil purposes was carried out at the forecasted level, and increased by 55 percent compared to the same period in 2013.
The enterprises of the Defense Industry Ministry also continued scientific-research and development work in the reported period.
It was also noted that the products manufactured at the enterprises since 2009 are demonstrated at international exhibitions.
The last of them was the 14th Defense Services Asia Exhibition and Conference (DSA-2014), held in Kuala Lumpur, Malaysia, on April 14-17.
The exhibition was the largest one of the five defense industry exhibitions attended by Azerbaijan's Defense Industry Ministry.
Azerbaijan demonstrated 132 defense-purpose items which aroused great interest at the exhibition, attended by more than 800 leading companies from 55 countries.
Azerbaijan is strengthening its military power and defense capabilities on a yearly basis, and the establishment of the Ministry of Defense Industry has been very effective in strengthening the country's defense potential.
Defense products output in Azerbaijan increased eight-fold in 2005-2013. The Ministry produced defense-purpose products worth about 121.2 million manats and delivered them to customers in 2013.
The Defense Industry Ministry closely cooperates with more than 60 companies from various countries.