Azerbaijan to commemorate prominent thinker Bakikhanov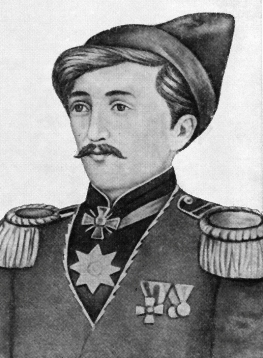 By Nazrin Gadimova
Azerbaijan will celebrate the 220th anniversary of prominent writer, educator, historian, journalist, linguist, poet, and philosopher Abbasgulu Aga Bakikhanov.
Azerbaijani President Ilham Aliyev has signed an order for commemorating Abbasgulu Aga Bakikhanov, the country's prominent representative in the history of socio-cultural thought.
Azerbaijan's Culture and Tourism Ministry, the National Academy of Sciences, and the Writers Union are tasked with organizing appropriate events in this regard.
Being a nephew of the last Baku Khan, Abbasgulu Aga Bakikhanov left a rich legacy in numerous fields of science and culture.
His most famous work in Farsi and Russian is Gulistan-i-Iram, which was written in 1841 and is in fact the first modern historiography of Azerbaijan. The book describes the history of the whole Eastern Caucasus and Azerbaijan from the beginning of time until the Gulistan Treaty of 1813.
This work on the history of the South Caucasus was written in accordance with Western standards and is regarded as an important piece of historical scholarship today. Because of its content and scientifically-organized supporting evidence, it was appreciated both during Tsarist Russia and in the Soviet era. Even now it is attracting the attention of foreign researchers, and has been published in Russian, Persian and Azerbaijani several times over the years.
Abbasgulu Bakikhanov was the author of various philosophical and scientific works such as Riyaz al-Guds, a religious work in Azeri Turkish language, Ganun Gudsi, a book of Persian grammar translated into Russian by him, Gashf-al Garaib, a description of world geography in Persian, and Asrar al-Malakut, an introduction on astronomy in Arabic language.
He was also an officer in Imperial Russian Army since 1820, and participated in the Russian-Persian War of 1826-1828. Later, he retired and lived in Azerbaijan's Guba city, but traveled extensively in Russian Empire, meeting important literary figures such as legendary Russian poet Alexander Pushkin.
The changes in Bakikhanov's world vision finally led to his retirement. The tyranny of tsarist functionaries and the rebellion that took place in Guba in 1837 made a deep impression on him, as evidenced by official documents.
Abbasgulu Aga Bakikhanov had an encyclopedic knowledge and wrote valuable works of history, philosophy, astrology, theology, astronomy, and ethics. He was an active enlightener, well-known as a poet familiar with Azerbaijani poetry, and, at the same time, a prominent political figure. Thus, he stands alongside the greatest Russian and European academics and thinkers of the early 19th century.