Azerbaijani cyclist still pedaling despite harsh conditions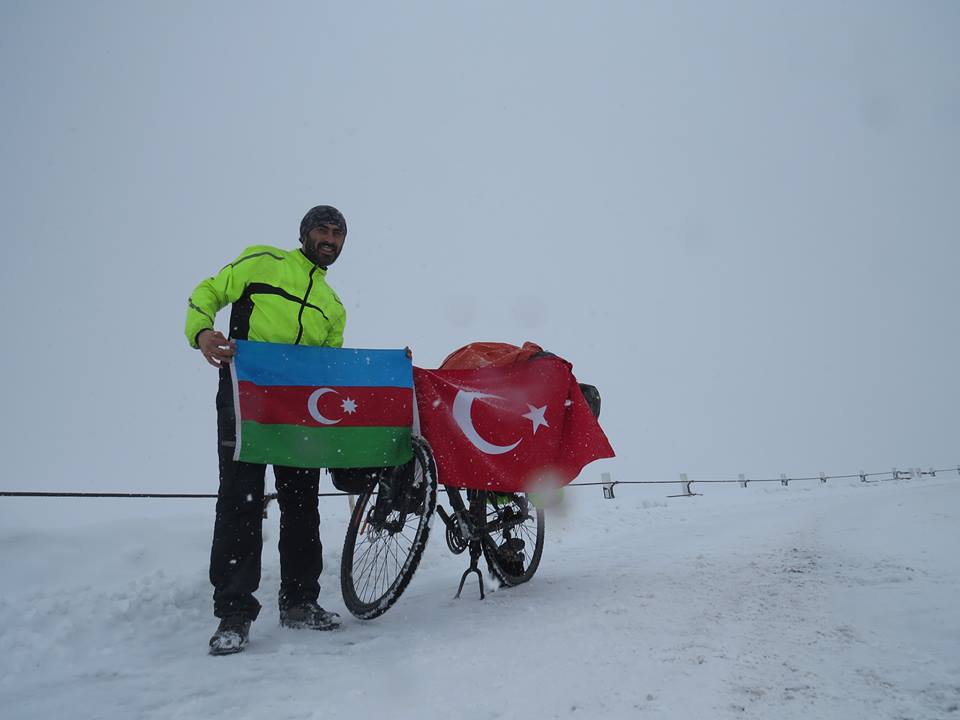 By Nigar Orujova
Azerbaijani Ramil Ziyadov is still pedaling despite rough wind and 14 degrees below zero of Russia.
Cyclist Ramil set off a two-year journey in the name of Azerbaijan, during which he plans to pedal 45,000 kilometers across Eurasia and Africa. Ramil has already covered Georgia, concurred Kazbek, reached Russian city of Pyatigorsk and is currently on his way to Rostov.
As part of his preparation to the journey, Ramil spent several nights outdoors to stand severe Russian cold.
He has reached frog and frosty Pyatigorsk by the icy road, however, felt himself happy and optimistic. Here Ramil, who travels at his own expense, was heartily welcomed by Azerbaijani Diaspora. Russian TV channels covered his trip to the city and were impressed with his determination.
"I undergo a lot of ​​emotions. Being in Russia, Pyatigorsk, I feel the warmth and kindness of those with whom I communicate along the roads. People are waiting for a miracle, but a miracle is within us. Relieve your thoughts and aspirations. It is so easy," Ramil said.
In Russia, he will pass such major cities as Moscow, St. Petersburg and Murmansk in the winter cold. He will continue pedaling toward Belarus, Ukraine, Moldova and Turkey and then will travel to Egypt, Ethiopia, Kenya, Tanzania and RSA.
Ramil said bicycle could overcome long distances. "I think my "Steppe wind" (bicycle) will not let me down neither in a snowdrift, nor in the desert sands."
He will cycle to try himself in Cameroon, Senegal, Morocco, and then from Egypt, Turkey and Iran will return to the homeland.
Notwithstanding the risk, with only cold-weather clothing, sleeping bag and tent, Ramil wants to show the world how strong and able Azerbaijanis are.
However, Ramil aims not only trying himself, but also present to foreigners: Azerbaijan, its achievements, developments and its acute problem, the Nagorno-Karabakh conflict with Armenia.
This is the third such a tour for the captivated cyclist, who already covered over 15,000 kilometers in six months, cycling from Russia to China, and 300 km tour in Azerbaijani regions.