Azerbaijani language courses opened in Vienna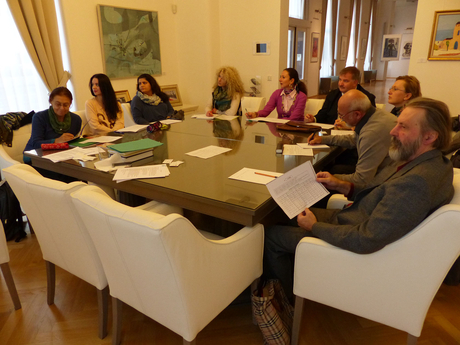 By Nigar Orujova
Azerbaijani language courses for the 2013-2014 school year have been opened in the Azerbaijani cultural center in Vienna.
The courses will be taught on modern Azerbaijani phonetics, grammar and vocabulary, as well as comparative linguistics. At the initial stage the lessons will be conducted in German.
Students and young people, businessmen, representatives of the academic community interested in the Azerbaijani language and culture have enlisted for the courses, which will be held once a week.
Head of the courses, University of Vienna PhD Yagut Abdullah said the main aim of the course along with teaching the Azerbaijani language is to present the country and its culture.
The classes will cover the Azerbaijani literature, the creative works of Azerbaijani poets and writers.
The courses are equipped with modern technology, which will regularly allow to screen documentaries and movies about Azerbaijan for the students. A large library of the cultural center will also be available to the students.
Taking into account the increasing interest in Azerbaijani language courses, it is planned to open a Sunday school for Azerbaijani children in the near future, which will also teach the language, literature, history and geography of Azerbaijan.
Earlier this year Azerbaijani language courses and schools were opened in a number of European countries.
A school for Azerbaijani children, opened in Copenhagen, Denmark, in August, aims to teach Azerbaijani children and youth Azerbaijan's history, geography and culture, along with the Azerbaijani language.
In March, Azerbaijani language, history, culture and geography courses were organized for Azerbaijani children aged 4-13 who live in Paris and its suburbs.
Moreover, soon everyone will have the opportunity to study the Azerbaijani language by means of courses to be organized in Azerbaijan's diplomatic missions abroad.
Development of Azerbaijani language studies is envisaged in a state program.
The Azerbaijani language, which belongs to the ancient Turkic group of languages, was declared the official language of the Azerbaijan Republic, which currently has a population of over 9 million people, by holding a nationwide referendum in 1995.