TURKSOY`s 20th anniversary marked in Ankara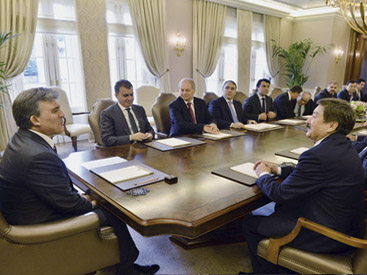 By Sabina Idayatova
An event marking the 20th anniversary of the Turkic-speaking countries' cultural organization TURKSOY was held in Ankara, Azertag state news agency reported on October 3.

The 31st meeting of the Standing Committee was held with the participation of six culture ministers of Turkic-speaking countries, including Azerbaijani Minister of Culture and Tourism Abulfas Garayev, at the TURKSOY`s headquarter in the Turkish capital.

Addressing the event, Secretary General Dusen Kaseinov and Turkish Culture and Tourism Minister Omar Celik spoke about the activities carried out in the field of promotion of cultural heritage of the Turkic world, as well as strengthening cooperation between the Turkic-speaking countries for 20 years.
Jubilee medals were presented to the ministers of Turkic-speaking countries, including TURKSOY`s first Secretary General Polad Bulbuloglu.

Later, Turkish President Abdullah Gul received the TURKSOY culture ministers in Cankaya Presidential Palace.
He congratulated the TURKSOY member states on the anniversary and wished organization success in its future endeavors.
Kaseinov presented jubilee medal to President Gul.
Also, a concert dedicated to TURKSOY`s 20th anniversary was held at the concert hall of Symphony Orchestra of Turkish President. Masters of the art of the Turkish world attended the concert.
The event also featured the launch of an exhibition at the headquarters of the organization.

TURKSOY is an international cultural organization which was established in 1993 with the objective to strengthen cooperation in the fields of culture and arts between the countries of Turkish origin and Turkic language family.
The organization also aims to ensure better understanding and deepening friendly relations and contacts between these countries as well as to protect and promote the Turkish culture. The organization consists of 6 founding members; Azerbaijan, Kazakhstan, Kyrgyzstan, Uzbekistan, Turkey, Turkmenistan and 8 observer members including Altay ,Bashkortostan , Gagauzia, Hakasia , Northern Cyprus of the Turkish Republic, Saha-Yakut, Tataristan and Tuva.
The official language of TURKSOY is Turkish and its headquarters is in Ankara.