ASAN service center to open in Ganja in weeks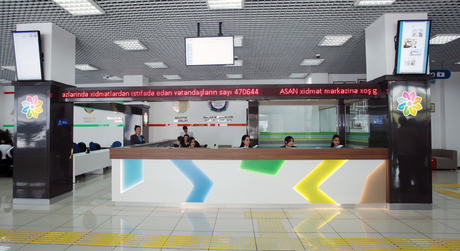 By Nigar Orujova
ASAN Service Center is expected to be opened in Azerbaijan's second largest city, Ganja, by the end of September.
The first ASAN Service center, which successfully ensures coordinated provision of services by state bodies, was established under the State Agency for Public Services and Social Innovations under the President of Azerbaijan in January.
The Ganja center will be the fifth ASAN center built in the country, Head of the Agency, Inam Karimov, said at a press conference on September 18.
Karimov noted that the third ASAN service center was recently opened in the Yasamal district of the capital Baku. The center will provide services to the residents of Yasamal, Sabayil and Garadagh districts of the city.
Thus, residents of nine districts of Baku may now enjoy ASAN services.
According to Karimov, biometric passports issued in Azerbaijan from September 1 can already be received in the ASAN service centers.
"ASAN Service centers have been provided with all the necessary equipment to issue biometric passports," Karimov said.
The ASAN service center in the Yasamal district, which will start providing services from September 25, has already set up a "system of collecting biometric information", which allows to photograph, take fingerprints and obtain electronic signatures.
"So far, services including mobile centers have been provided to 475,000 people," Karimov said.
He said mobile ASAN services launched in 14 regions have served nearly 40,000 people of 25 regions throughout the country.
The first ASAN service center in Baku provides services to the residents of Nasimi, Narimanov and Binagadi districts, while Sumgayit's branch center serves the residents of this industrial city, as well as the Absheron, Siyazan, Shabran and Khyzy regions, and ASAN service center No. 2 serves the residents of Khatai, Nizami and Surakhani districts of Baku.
According to Karimov, the fourth ASAN center will be opened in Baku to provide services to the residents of Sabunchi, Khazar and Pirallahi districts.
"Once this center covers these districts, every Baku resident will be able to apply to any ASAN service center. However, citizens can take advantage of a number of services even now, regardless of the place of residence. For example, replacement of the driver's license, notary services," he said.
He said that according to the Azerbaijani President's instructions, ASAN services should cover the entire territory of the country in the shortest time possible and this service should be provided to all citizens.
"The main objective is opening as many ASAN Service centers as possible in many places and making them accessible. Therefore, the priority is to open ASAN service centers in densely populated and economically developed cities and regions, including Nakhchivan Autonomous Republic. Buses will provide mobile services in places where there are no ASAN services yet," Karimov said.
Once the network is fully established in all regions of the country, every citizen will be able to apply to any ASAN service center, regardless of the place of registration, he said.
The ASAN service centers provide banking and insurance services, legal aid; there are a translation center, a laboratory, a medical service, Internet cafes, post offices, and photo studios in the centers.
The centers render access to 25 services that are provided by nine state entities without extra expenses and loss of time. The centers are open from 10:00 AM until 20:00 PM and until 17:00 PM on Sundays.
In addition, ASAN has 22 auxiliary services, including opening bank accounts, currency exchange, banking services for payments of state fees and penalties, real estate and car insurance, legal advice, medical services, and translation services.