Event marking anniversary of Khojaly tragedy held in Washington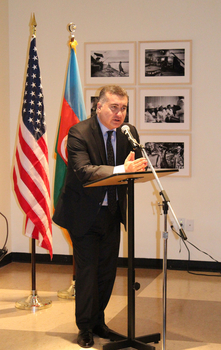 An event marking the 21st anniversary of the Khojaly tragedy has been held at the German Cultural Centre named after polymath Johann Wolfgang von Goethe in Washington, AzerTac state news agency reported.
The event co-organized by Azerbaijan`s Embassy to the US and US Azeris Network, brought together Members of Azerbaijan`s Parliament, as well as State officials of the US, employees of the diplomatic corpus accredited in the country, representatives of Azerbaijani Turkish and Jewish communities.
The event was started with a one-minute-silence in memory of the Khojaly victims.
The event saw speeches by the country`s ambassador to US, as well as Member of the U.S. House of Representatives from Illinois's 14th District Randy Hultgren, executive director of the US Azeris Network (USAN) Adil Bagirov, Executive Director of the Karabakh Foundation functioning in the United States Diana Cohen Altman.
Ambassador Elin Suleymanov briefed the event participants on the history of the tragedy, which claimed the lives of 613 people, including 83 children, 106 women and 70 elders.
"A total of 1,000 civilians were disabled during the genocide committed by the Armenian military forces in the town of Khojaly on February 26, 1992. Eight families were completely annihilated, 130 children lost one parent, and 25 lost both. Additionally, 1,275 peaceful residents were taken hostage, while the fate of 150 remains unknown."
The event also featured an exhibition on Khojaly massacre supported by the Heydar Aliyev Foundation, as well as Narmina Valiyeva`s art works presented by Karabakh Foundation.
The Khojaly massacre is one of the most heinous and bloodiest events of the 20th century.
Late into the night of February 25, 1992, Khojaly came under intensive fire from the towns of Khankendi and Askeran already occupied by Armenian armed forces. The Armenian forces, supported by the ex-Soviet 366th regiment, completed the surrounding of the town already isolated due to ethnic cleansing of the Azerbaijani population of the neighboring regions. The joint forces occupied the town, which was ruined by heavy artillery shelling.
Thousands of fleeing civilians were ambushed by the Armenian forces. Punitive teams of the so-called Nagorno Karabakh defense army reached the unprotected civilians to slaughter them, mutilating and scalping some bodies. 613 people were killed, including 106 women, 70 elderly and 83 children. A total of 1,000 civilians were disabled. Eight families were exterminated, and 25 children lost both parents, while 130 children lost one parent. Moreover, 1,275 innocent people were taken hostage, while the fate of 150 remains unknown.