8 February 2013 13:04 (UTC+04:00)
1 539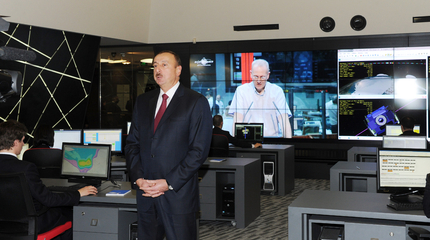 February 8 marked one of the most remarkable events in Azerbaijan`s independence history as the country put its first communications satellite, Azerspace-1, into orbit, AzerTac state news agency reported.
Azerbaijani President Ilham Aliyev and first lady Mehriban Aliyeva watched the launch live from the new headquarters of Azercosmos that the Head of State inaugurated earlier the same day.
Prior to the launch of the satellite President Ilham Aliyev viewed the new headquarters of Azercosmos, a first satellite operator in Azerbaijan and the Caucasus.
Minister of Information and Communication Technologies Ali Abbasov told the Head of State that Azercosmos provided highly reliable and satellite-delivered communication services and platforms to broadcasting, broadband and government customers.
In 2008, a presidential decree set up a national space program. In the meantime, the Ministry of Information and Communication Technologies came to an agreement with Measat Satellite Systems, the leading satellite operator in Malaysia, to lease the GEO position at 46°E orbital slot and jointly operate the Azerspace/Africasat-1A. 2009 saw several tenders and as a result the US-based Orbital Sciences Corporation was opted to construct the satellite along with the French Arianespace to launch it.
The Minister told President Ilham Aliyev that Azercosmos planned to launch a low-Earth orbit satellite in 2015, and Azerspace-2 satellite in 2016.
Azerbaijani President Ilham Aliyev and first lady Mehriban Aliyeva then watched the launch live. The spacecraft was put into orbit from Guiana Space Center near Kourou in French Guiana at 01.36 Baku time.
Azerspace-1 blasted off aboard Ariane 5 rocket made by French Arianespace company.
Arianespace was founded in 1980 as the world's first commercial satellite launch company. Its shareholders include the French space agency CNES, Astrium and all European space companies, representing 10 European countries. As of October 1, 2012, the company had 315 employees, at its corporate headquarters in Evry, at the Guiana Space Center (CSG) - launch site for Ariane 5, Soyuz and Vega - and at local offices in Washington, D.C., Singapore and Tokyo.
Since its creation, Arianespace has signed contracts with 80 customers worldwide carrying out 211 Ariane launches, 29 Soyuz launches (four at CSG and 25 at Baikonur via its subsidiary, Starsem) and the first launch of Vega. More than half of the commercial satellites in service today were launched by Arianespace.
Based on impressive launch performance and a large backlog of orders, Arianespace is the world's leading launch company, capturing much more than 50 percent of the commercial satellite launch market year after year.
With an anticipated service life of 15 years, Azerspace/Africasat-1a is based on Orbital`s flight-proven GEOStar-2 platform. The hybrid C- and Ku-band satellite will generate approximately five kilowatts of payload power and carry 36 active transponders, providing communications services to Azerbaijan, Europe, Africa, Middle East and Central Asia. Azerspace/Africasat-1a will operate from an orbital location at 46 degrees East longitude through an arrangement between Azercosmos and MEASAT Satellite Systems of Malaysia, which owns the rights to the orbital slot.
Azerspace-1 satellite will offer telecommunication services to Eastern Europe, the Caucasus, Central Asia and North Africa, providing digital broadcasting, Internet access, data transmission, creation of VSAT multiservice networks and communications. Some 20% of the satellite`s resources will be used for Azerbaijan`s needs, and the remaining 80% will be available for commercial purposes.
The launch of the spacecraft means that all of the territory of Azerbaijan will be covered with quality TV and radio broadcasting, high-speed IP services, enabling a stable and quality platform for programs such as distance education and e-health, eliminating communication problems.
The satellite separated from the carrier rocket 33 minutes after the launch. It placed itself into a geostationary orbit at 46 degrees East longitude 34.56 minutes after blasting off.
President Ilham Aliyev congratulated the people of Azerbaijan on the launch of the country`s first communications satellite.
Related News