Azerbaijani FM holds phone talk with acting US Assistant Secretary of State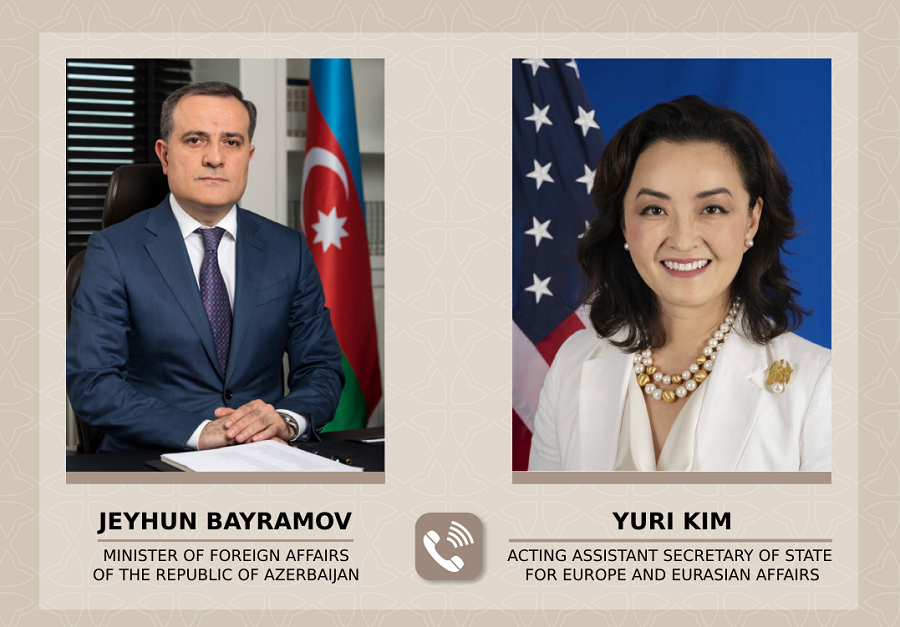 On August 9, 2023, Azerbaijani Foreign Minister Jeyhun Bayramov had a telephone conversation with Yuri Kim, acting assistant to the US Secretary of State for European and Eurasian Affairs, Azernews reports, citing MFA.

During the telephone conversation, the agenda of bilateral cooperation between Azerbaijan and the United States, the issues arising from the normalization process between Azerbaijan and Armenia, and the situation in the region were discussed.
Minister Jeyhun Bayramov said that Armenia is deliberately escalating the situation in the region, obstructing the peace process by spreading claims such as "blockade" and "humanitarian crisis" in the region under various pretexts. At the same time, he emphasized that Azerbaijan's ongoing claims against territorial integrity and sovereignty, its refusal to fully withdraw the Armenian armed forces from Azerbaijan's territories, and its interference in the internal affairs of our country are unacceptable.
He reminded that Armenia continues its provocations against the Lachin border crossing point established by Azerbaijan in its sovereign territory, despite this, our country creates conditions for the passage of Armenian residents in both directions.
Minister Jeyhun Bayramov noted that despite Azerbaijan's proposal of Aghdam-Khankendi and other alternative roads for the transportation of goods, the fact that the Armenian side creates obstacles on the roads for the transportation of goods and opposes the transportation of goods by these roads is a political manipulation of the claims about "blockade" and "humanitarian situation". has proven once again.
During the phone conversation, opinions were also exchanged on other issues of mutual interest.
---
Follow us on Twitter @AzerNewsAz