Azerbaijan's Bayramov receives President of OSCE Parliamentary Assembly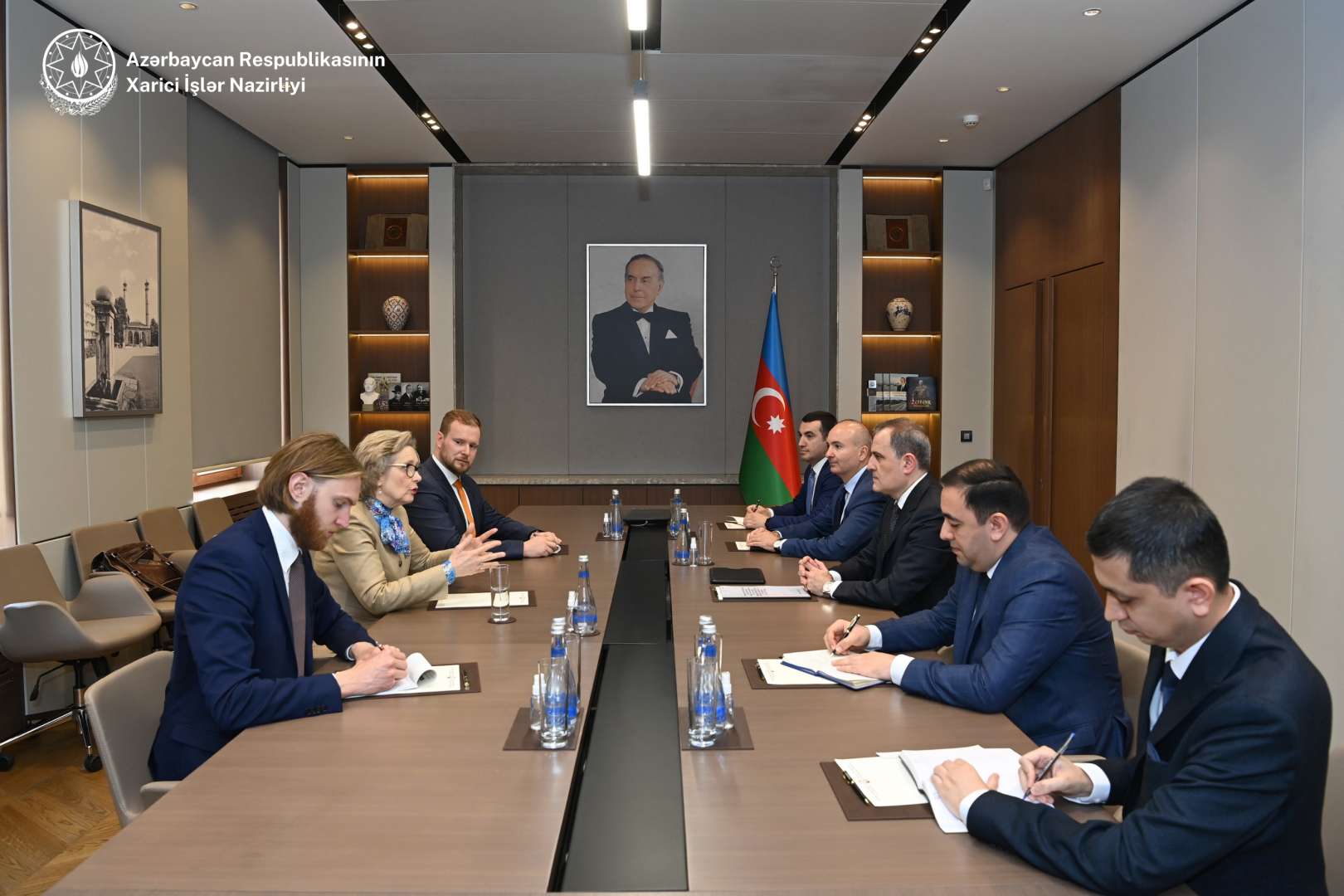 On May 24, the Azerbaijani Foreign Minister Jeyhun Bayramov received a delegation led by the President of the OSCE Parliamentary Assembly, Margareta Cederfelt, who was on a visit to Azerbaijan to participate in the international conference held in Baku on the theme "The role of national parliaments in promoting security and stability through green economy, transport coordination and sustainable development," Azernews reports, citing MFA.
At the meeting, the prospects of cooperation of relations with Azerbaijan in the OSCE Parliamentary Assembly and the main issues on the agenda, possible contributions of the OSCE Parliamentary Assembly to the normalization process between Azerbaijan and Armenia were discussed.
Confidence was expressed that the international conference held in Baku, jointly organized by Azerbaijan's Parliament and the OSCE Parliamentary Assembly, will contribute to further deepening of mutual cooperation. The importance of interparliamentary dialogue and mutual visits was emphasized.
Minister Jeyhun Bayramov informed the other party about the current situation in the region and the large-scale reconstruction and construction projects carried out by Azerbaijan. Despite Armenia's provocations and efforts to slow down the processes, he informed about the steps taken by Azerbaijan in the direction of ensuring peace and stability in the region, including the signing of the peace agreement, the opening of all communications and other issues.
In addition, attention was paid to issues such as ongoing mine threats, non-fulfillment of obligations by Armenia within the framework of the Tripartite Declaration, violence against Azerbaijani soldiers captured in April and their non-return, and non-reporting of missing persons.
The Chairperson of the OSCE Parliamentary Assembly, Margareta Cederfelt, pointed out that within the framework of her visit to Azerbaijan, she and her delegation visited the Zangilan district and got acquainted with the reconstruction projects of Azerbaijan. Noting that the OSCE Parliamentary Assembly attaches great importance to cooperation with Azerbaijan, Margareta Cederfelt, also spoke about the importance of ensuring peace and security in the region, and emphasized that the OSCE Parliamentary Assembly promotes peace, stability, parliamentary diplomacy, and works towards ensuring peace in the region.
At the meeting, opinions were also exchanged on other topics of mutual interest.
---
Follow us on Twitter @AzerNewsAz