Azerbaijan improving drinking water supply to number of villages in Tovuz district [PHOTO]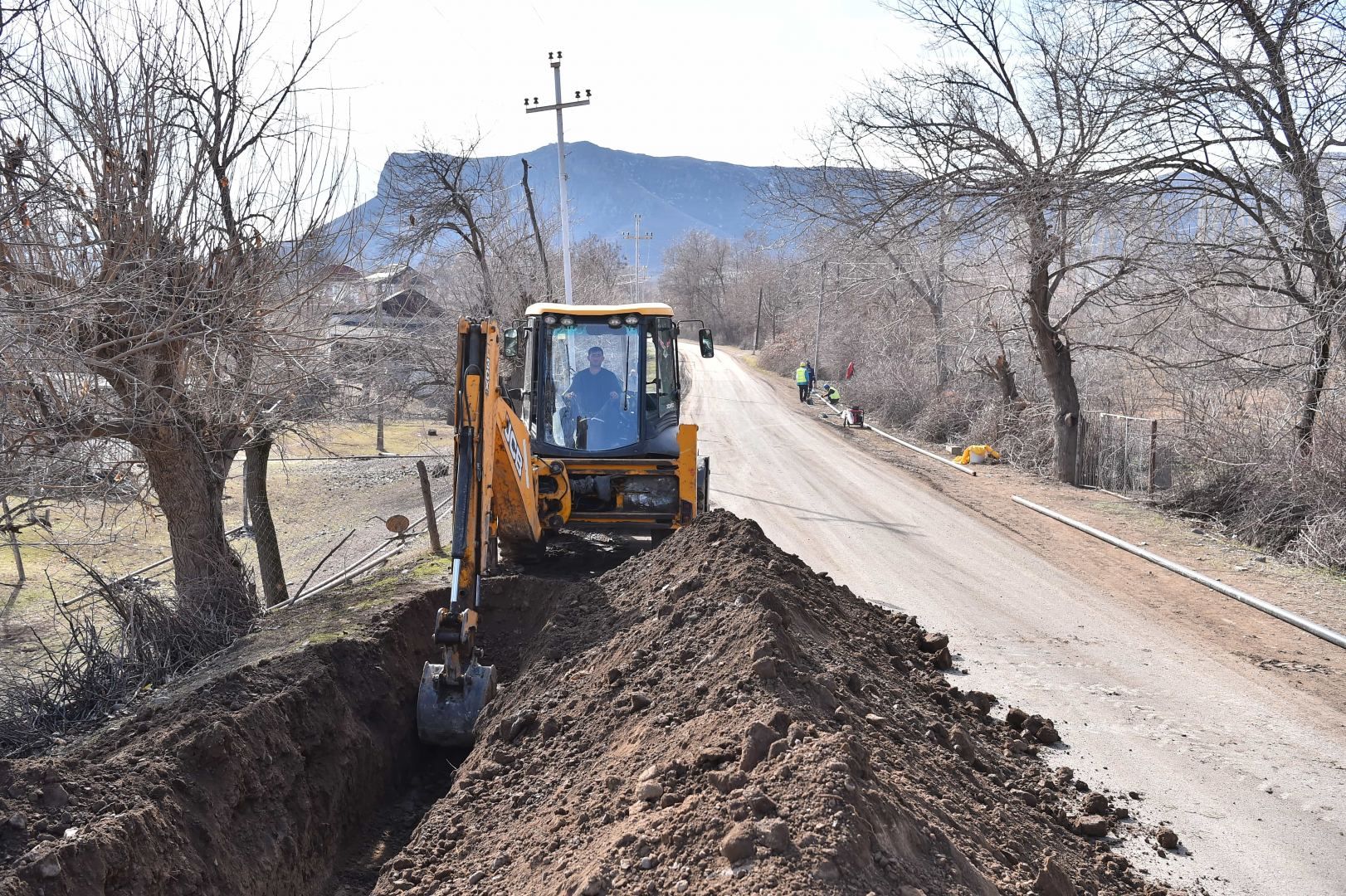 The supply of drinking water to seven villages of Azerbaijan's Tovuz district is improving within the state regional socio-economic development program, approved by the President of the Republic of Azerbaijan Ilham Aliyev, Azernews reports citing Azersu OJSC.
According to the company, the project, implemented through public investment, covers Aghdam, Vahidli, Ashaghi Oysuzlu, Yukhari Oysuzlu, Alibayli, Hajialli, and Mulkulu villages.
The company said that, so far, the residents of Aghdam and Vahidli villages have satisfied their needs for drinking water mainly at the expense of trucked-in water. Other villages used sub-artesian wells for irrigation, water from the Tovuzchay river and drain. In some villages covered by the project, the water lines laid by the residents individually didn't allow for a normal water supply.
In accordance with the approved project, drinking water will be supplied to Aghdam and Vahidli villages through existing drainage devices and springs, and to Alibayli, Hajialli, Mulkulu, Yukhari Oysuzlu and Ashaghi Oysuzlu villages - from seven sub-artesian wells planned for drilling.
The construction of a chlorination plant, pumping stations and reservoirs is also envisaged for the treatment of borehole waters. According to the project, springs will be built for the general use of the population.
Currently, the construction of inter-well, main and network water pipelines, as well as reservoirs, continues. To date, a 13-kilometer section of main water pipelines with a length of 31 kilometers has been built.
At the same time, a 111 km section of a 150 km network water line was built. Within the framework of the project, 690 springs are planned to be installed in seven villages of the Tovuz district for general public use.
Completion of construction and installation works is scheduled for the summer of 2023. The implementation of the project will improve the supply of drinking water to 20,000 residents in seven villages of the Tovuz region.
Along with the Tovuz district, projects are currently being implemented to supply drinking water to villages and settlements in the Gazakh, Aghstafa, and Neftchala districts.
Quality indicators of drinking water provided to consumers in Azerbaijan are determined according to the Interstate Standards (GS 2874-82). At present water taken from sources is processed according to "Drinking Water" State Standards No 2874-82 prior to conveying to consumers. In the future, it is intended to apply international standards (World Health Organization and European Union) for the identification of quality indicators of drinking water treated by "Azersu" OJSC. For this purpose Central Laboratory meets all requirements put into operation in Baku. More than 50 parameters of drinking water are set under the standards adopted by the World Health Organization and more than 75 parameters by the European Union.
---
Follow us on Twitter @AzerNewsAz