Foreign ministry discloses number of Azerbaijani citizens dead & evacuated from Turkiye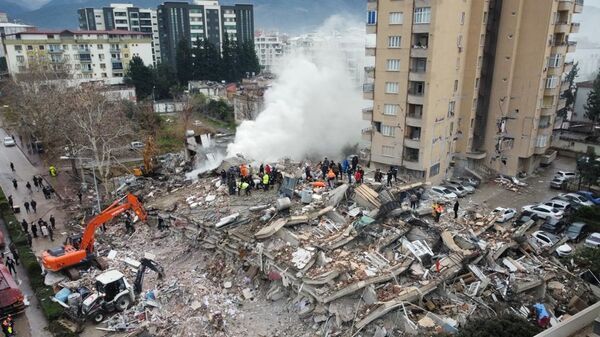 Four Azerbaijani citizens are reported dead as a result of the destructive earthquake in Turkiye, Azernews reports per the Foreign Ministry.
According to the ministry, they are Naila Bunyatova (born in 1980), Rana Mammadova (Okten), born in 1973, Sevinj Mammadova (born in 1975), and Leyla Karli (born in 1976).
"We contacted the relatives of the quake victims. Leyla Karli will be buried by her family in Türkiye, and relevant actions are underway to send the remaining bodies to Azerbaijan. May Allah rest the souls of the victims," the ministry said.
Meanwhile, the process of evacuating Azerbaijani citizens from Turkiye's Kahramanmaras and other quake-hit provinces continues.
Since the start of the earthquake, 395 people have been sent to Azerbaijan by nine buses, and 183 of them are already in Azerbaijan, the ministry noted.
On February 8, 2023, 190 Azerbaijani citizens and their close relatives, who are foreign nationals, were taken from the provinces of Gaziantep, Kahramanmaras, Adana, and Hatay to Azerbaijan by bus.
The European-Mediterranean Seismological Center reports that on January 6, a 7.4-magnitude earthquake hit central Turkiye. The epicenter of the earthquake was 26 kilometers off Gaziantep with a population of about 1.06 million. The earthquake's epicenter was located 7 km below the surface. According to Turkiye's Disaster and Emergency Management Authority, three more earthquakes with magnitudes of 6.4 to 6.6 shook the province of Gaziantep in southeastern Turkiye.
At the time of writing, the overall death toll in Turkiye is 18,342, and the injured toll is 74,242.
---
Sabina Mammadli is AzerNews' staff journalist, follow her on Twitter: @SabinaMmdl
Follow us on Twitter @AzerNewsAz