Aliyev, Putin eye strategic partnership, United Russia election victory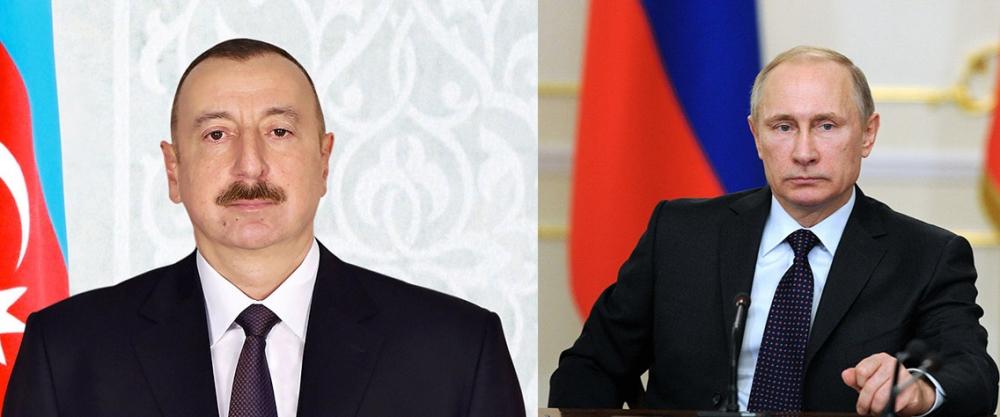 By Ayya Lmahamad
Azerbaijani President Ilham Aliyev and his Russian counterpart Vladimir Putin have discussed the successful bilateral strategic partnership and the ruling United Russia party's election victory, Azertag has reported.
In a phone conversation on September 20, the two leaders focused on issues related to the prospects for cooperation between the two countries in various areas.
During the conversation, the presidents expressed confidence that the traditional ties of friendship and cooperation between the newly elected Russia's State Duma and Azerbaijan's Milli Majlis will further continue.
Congratulating the Russian president on the victory of the ruling United Russia party in the parliamentary elections, Aliyev described this victory as a manifestation of the people's appreciation of the policy aimed at the development and prosperity of the country under Vladimir Putin's leadership.
The Russian president thanked President Aliyev for the attention and congratulations.
Aliyev also expressed condolences to Putin over the casualties of a deadly gun attack in Perm city, in which several people were killed and at least 28 were injured.
United Russia is the ruling political party of Russia. It is the largest party in the country, and as of 2021, it holds 336 of the 450 seats in the State Duma. The party was formed in December 2001 through a merger of the Unity and the Fatherland-All Russa parties.
Azerbaijan and Russia are cooperating in different spheres of the economy. Earlier this year, Azerbaijan also participated in the International building materials exhibition MosBuild 2021, Prodexpo 2021, TransRussia 2021 int'l transport expo, Russia Halal Expo 2021, Worldfood Moscow and Heimtextil Russia 2021.
The trade turnover between Azerbaijan and Russia amounted to $2.6 billion in 2020, making Russia Azerbaijan's third-largest partner.
In addition, the trade turnover between the two countries amounted to $1.54 billion in the first seven months of 2021. Azerbaijan is also a major supplier of fruits and vegetables to Russia. The country ranked first in supplies of fresh and chilled tomatoes.
---
Follow us on Twitter @AzerNewsAz