12 November 2018 14:43 (UTC+04:00)
2 525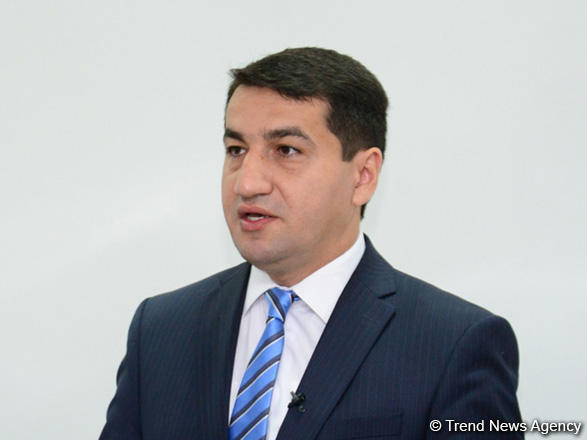 By Trend
Suspension of activities of the Norwegian Embassy in Baku is an ordinary case and Azerbaijan doesn't feel any regret in this regard, Deputy Head of the Foreign Policy Affairs Department of the Azerbaijani Presidential Administration Hikmet Hajiyev told Trend Nov. 12.
"It is not worth attaching special importance to this," said Hajiyev. "Each country, when determining its foreign policy, decides on opening or closing an embassy or other diplomatic mission of a different status. The suspension of the activities of the Norwegian Embassy accredited in Baku is a personal matter of this country's government."
Hajiyev reminded that the Norwegian Embassy in Azerbaijan was established in June 1998. At that time, the main task of the embassy was to facilitate the activities of the Norwegian oil company Statoil and promote its business interests, he said.
"The Azerbaijani Embassy in Norway didn't open and, frankly speaking, there was no such thought," Hajiyev added. "The Azerbaijani Embassy in Sweden in the status of non-resident is also accredited in Norway."
He noted that embassies of 65 countries, representative offices of 20 international organizations and 12 honorary consulates were accredited with the residence in Baku.
"Among them, 25 embassies belong to European countries," he added. "Also, there are four general consulates in Azerbaijan. The last ones to open were the embassies of Portugal, Venezuela, Peru and Costa Rica. In turn, there are 70 embassies and diplomatic offices, five representative offices at international organizations, nine general and 14 honorary consulates of Azerbaijan. Almost 30 embassies and diplomatic missions of Azerbaijan are accredited in European countries."
Hajiyev also commented on the issue regarding the controversial activities of the Norwegian Embassy in Azerbaijan and the announcement of the Norwegian ambassador as persona non grata at one time.
"This issue is in the past, but there are facts that the ambassador and diplomats mixed diplomacy with the activities of a non-governmental organization," he said. "Steinar Gil, former ambassador of Norway to Azerbaijan, who acted in contradiction to the rules of the diplomatic protocol and violated the Vienna Convention on Diplomatic Relations, inflicted a big blow to relations between Azerbaijan and Norway. This person, who had a status of ambassador, tried to interfere in the internal affairs of Azerbaijan. Instead of engaging in bilateral issues, he, by participating in various rallies, carried out other illegitimate activities of this kind."
So, the Azerbaijani government began to discuss the issue of expelling Gil from the country, Hajiyev added.
"As a result, the Norwegian government recalled Gil ahead of time," he said. "Against the background that public, political circles and media of Norway are particularly sensitive to attempts by exterior forces to influence and interfere in the affairs of the country, and special importance is always attached to preserving its sovereignty, would Oslo tolerate the presence of an ambassador with such behavior? Of course not."
Hajiyev stressed that Azerbaijan never interferes in the internal affairs of any states and won't allow other states to interfere in its internal affairs.
Azerbaijan pursues successful foreign policy and constantly develops bilateral relations with other partner countries based on the principles of mutual respect and equal rights, he said.
---
Follow us on Twitter @AzerNewsAz
Related News