Ilham Aliyev: Military products Azerbaijan purchased from Russia exceed $5B and tend to grow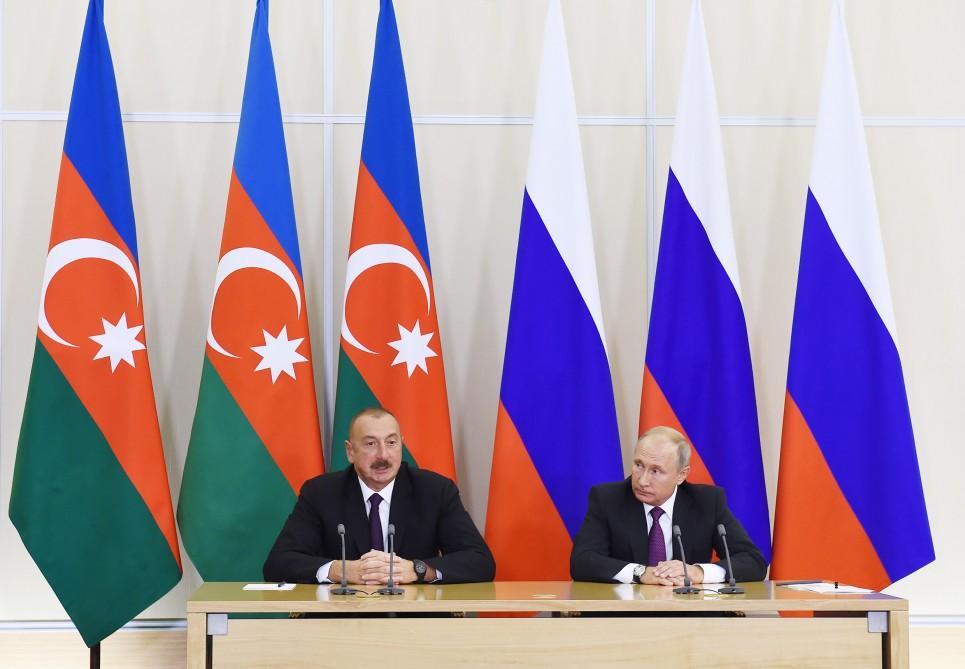 By Trend
The military products Azerbaijan purchased from Russia exceed $5 billion and tend to grow, Azerbaijani President Ilham Aliyev said.
He was making press statement in Sochi Sept. 1 together with Russian President Vladimir Putin.
"Vladimir Vladimirovich, first of all I would like to thank you for the invitation to visit Russia, for hospitality and for the warm welcome," Ilham Aliyev said.
"As you have mentioned, our meetings are of regular nature. We met three times in the last three months: in Moscow on the eve of the World Cup in June, in Kazakhstan in August and in Sochi today. I would like to use this opportunity to congratulate Russia again on successfully hosting this international event and the Russian team on brilliant performance at the World Cup."
"The regular contacts between the heads of state of our countries impart dynamism to our relations, the relations resting on a very sound basis," the Azerbaijani president said. "The relations between Russia and Azerbaijan are those of strategic partners. They cover all spheres of our life, and during my visit today we have discussed many aspects of our bilateral relations and international issues in great detail. Vladimir Vladimirovich said this very thoroughly today."
"I would like to note that among the issues we have discussed, an important place is held by the issues of regional security, first of all the settlement of the Armenia-Azerbaijan Nagorno-Karabakh conflict," Ilham Aliyev noted. "It has been ongoing for a very long time and has led to great suffering for the Azerbaijani people. The internationally recognized territories of Azerbaijan have been under Armenian occupation for many years. More than a million Azerbaijanis have become refugees and internally displaced persons as a result of this conflict. The soonest settlement of the conflict will allow our citizens the opportunity to return to their historical lands, and bring peace, stability and cooperation to our region."
"Russia as a co-chair of the OSCE Minsk Group dealing with the settlement of the conflict plays an important role in the settlement," he said. "Russia is our neighbor, our historical partner and friend, and we expect that Russia's efforts towards resolving the conflict will continue."
"We have discussed the economic issues in great detail and are pleased to note the growth of trade and great prospects for the future," Ilham Aliyev noted. "What has been discussed and agreed upon today, namely the roadmaps for various areas of economic cooperation, will enable us to further increase the already dynamic turnover between our countries. This year too, despite the rapid growth last year, the turnover has also grown. Russia for Azerbaijan is the number one partner regarding imports and is in the first place for Azerbaijani non-oil exports. In other words, this shows the scale and importance of cooperation between our countries."
"Many investment projects, as Vladimir Vladimirovich has said, are being implemented and have great prospects for the future," the Azerbaijani president added. "In general, we expect increase in the trade and economic turnover, strengthening of integration ties and creation of even better prerequisites for cooperation between our companies."
"Of course, transportation projects play an important role in this. Russia and Azerbaijan are neighbors," he said. "We are linked through railways, roads, the air communication is very active – both passenger and cargo. We thoroughly discussed further steps to create new transport opportunities for our countries, as well as for our neighbors."
"Vladimir Vladimirovich has noted the importance of the North-South project. Azerbaijan, for its part, has already carried out all the important infrastructure projects in this direction in its territory. In comparison with last year, 100 times more cargo was transported through the North-South transport corridor this year. And this is only a beginning because this large-scale global project will encompass countries and continents. Thus, the transit opportunities of our countries will increase and thousands of jobs will be created," Ilham Aliyev said.
"Important documents in the field of cooperation in the oil and gas sector have been signed today," Ilham Aliyev said. "This is a traditional sphere of our cooperation. There is very good potential and prospects. Vladimir Vladimirovich has pointed to the active participation of Russian banks in the implementation of many important transport, infrastructure and industrial projects in Azerbaijan. We welcome that."
"We have also discussed further cooperation in the military and technical field," the Azerbaijani president noted. "It already has great traditions. The contracts implemented between Russia and Azerbaijan, namely the military products Azerbaijan has purchased from Russia, exceed $5 billion and tend to grow because Azerbaijan continues to modernize its armed forces, and Russia is the world's most important producer and supplier of military products to international markets."
"Cooperation in the humanitarian sphere holds a special place in our discussions," he said. "Azerbaijan treats Russian culture, the Russian language and everything that has united our peoples for centuries with special care. There are more than 340 schools in Azerbaijan with teaching provided in the Russian language. There are two branches of leading Russian universities in Azerbaijan. We have discussed further steps to strengthen our cooperation in the humanitarian sphere, in the sphere of education, in the sphere of culture, and the documents that have been signed, including those in the sphere of sports, will bring our countries and peoples closer together."
"In other words, the relations between our countries are those of a full-fledged partnership, friendship and good-neighborliness. Such as they should be between good friends and neighbors," Ilham Aliyev said.
"Vladimir Vladimirovich, I want to express my gratitude once again for the invitation and for the exchange of views, and invite you to visit Azerbaijan at any time convenient for you. Thank you."
---
Follow us on Twitter @AzerNewsAz