State Border Service holds large-scale drills in Caspian Sea [PHOTO]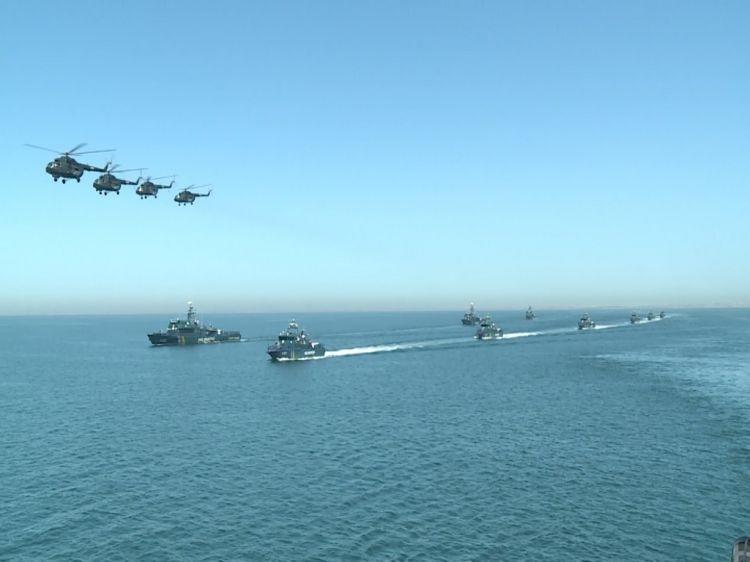 By Rashid Shirinov
Azerbaijan's State Border Service (SBS) held tactical exercises on August 15 for the provision of security and prevention of terrorist threats in the Azerbaijani sector of the Caspian Sea.
The main objective of the tactical exercises was to increase the combat readiness of the armed compounds of the SBS during the protection of the oil and gas fields and underwater pipelines in the Caspian Sea, to improve the managerial skills of the command staff in interaction, to conduct border search at the sea, as well as to improve practical skills for conducting missile and artillery shootings from helicopters and ships.
The exercises were entitled "Neutralization of terrorist groups and provision of maritime safety through search operations by the State Border Service units during the prevention of smuggling, illegal trade, organized crime and terrorist-provocative acts against energy infrastructure in the Azerbaijani part of the Caspian Sea."
The Service told APA that most of the ships involved in the tactical exercises were built at the Shipyard and Repair Center of the Coast Guard of the State Border Service.
The SBS noted that the shootings at the surface, coastal and air targets were successfully carried out from the missile complexes and anti-aircraft artillery units of the border guard ships of the Coast Guard and Rapid Action Forces' helicopters. Moreover, the staff fulfilled with high accuracy the tasks on detection and destruction of opponent's unmanned aerial vehicle and non-compliant vessel, conventional enemy's underwater sabotage groups and conventional terrorist groups camped on the coast.
Chief of Azerbaijan's State Border Service, Colonel General Elchin Guliyev congratulated the staff on the successful completion of the exercises.
---
Rashid Shirinov is AzerNews' staff journalist, follow him on Twitter: @RashidShirinov
Follow us on Twitter @AzerNewsAz