President Aliyev meets with UNESCO Director General Irina Bokova [UPDATE]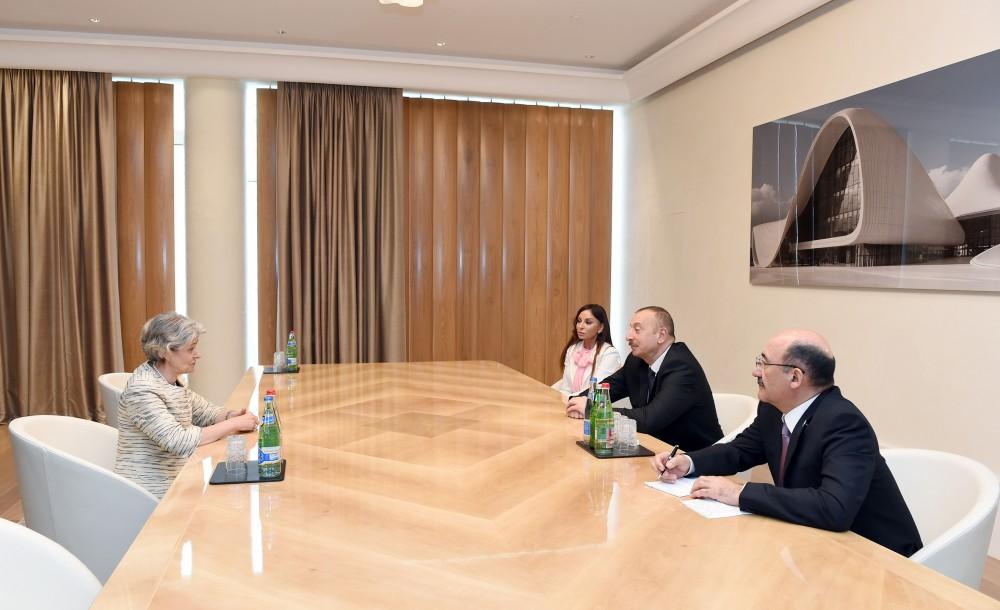 President of the Republic of Azerbaijan Ilham Aliyev and First Lady Mehriban Aliyeva met with UNESCO Director General Irina Bokova in Baku on May 5, on the sidelines of the 4th World Forum on Intercultural Dialogue, Azertac reported.
They noted that cooperation between Azerbaijan and UNESCO is developing successfully, and in this regard hailed the importance of the Forum.
Hailing the fact that UNESCO attaches great importance to the forum, President Aliyev said it enjoys growing interest every year and has become a globally prestigious event.
Bokova, for her part, underlined that they are pleased that UNESCO is one of the main partners of the forum. She noted that UNESCO attaches great significance to the forum, which features 15 different projects of the organization.
"UNESCO highly values the position of Azerbaijan, which has great influence in the region, and its friendly and kindly relations with all neighboring countries," she said.
The UNESCO Director General congratulated President Ilham Aliyev and First Lady Mehriban Aliyeva on the forum's global success, and added that Baku is recognized as a place of intercultural dialogue in the world.
The forum entitled "Advancing Intercultural Dialogue: New Avenues for Human Security, Peace and Sustainable Development" kicked off at the Heydar Aliyev Center.
The forum is organized in cooperation with UNESCO, the UN Alliance of Civilizations, the UN World Tourism Organization (WTO), the Council of Europe, the Islamic Educational, Scientific and Cultural Organization (ISESCO), the Food and Agriculture Organization of the United Nations (FAO) and the North-South Center of the Council of Europe.
--
Follow us on Twitter @AzerNewsAz