Quake jolts Azerbaijani sector of Caspian Sea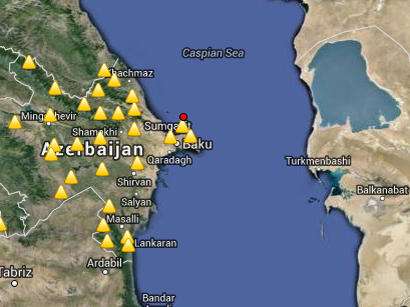 By Amina Nazarli
Azerbaijan, characterized by high geological activity, recorded another jolt in its sector of the Caspian Sea.

An earthquake measuring 4.3 on the Richter scale occurred on November 30 at 4:40 local time.
Tremors were not felt, according to the Azerbaijani National Science Academy of.
As the country is located in a zone of seismic activity, minor earthquakes occur in the country on a daily basis.
The Caspian Sea occupies quite an active area in terms of seismicity. Epicenter of bulk of the earthquakes, being recorded in Absheron Peninsula and Baku, are located in the Caspian Sea.

Overall, the territory of Azerbaijan, located within the central part of the Mediterranean mobile belt, is characterized by high geological activity due to the dynamics of the Arabian and Eurasian lithospheric plates.
Besides, the geological environment is intruded upon by intensive technical loads such as drilling, set up of deep water platforms, underwater and ground conduits which make the problem of geological hazard assessment in Azerbaijan more actual and substantial.
The map of potential seismogenic zones of Azerbaijan was prepared earlier to detect the risky zones. The document reflects the seismic zones of the southeastern slope of the Greater Caucasus, Shamakhi-Ismayilli zone, Ganjabasar, northwestern zones including Sheki, Zagatala, Balaken, the northern zone of Guba, Siyazan, Devechi, Talysh zone, Nakhchivan Autonomous Republic, and Azerbaijani part of the Caspian Sea.
The seismogenic zones with potential to produce dangerous force cover the whole country as the Alpine-Himalayan seismic belt passes through Azerbaijan. Therefore, the country is considered to be a seismically active region – a lot of earthquakes occur over Azerbaijan every year, however, majority of them are not felt.
Overall, more than 4,849 tremors were recorded in Azerbaijan since the beginning of the year.
--
Amina Nazarli is AzerNews' staff journalist, follow her on Twitter: @amina_nazarli

Follow us on Twitter @AzerNewsAz