Azerbaijani-Egyptian relations highlighted in Cairo [PHOTO]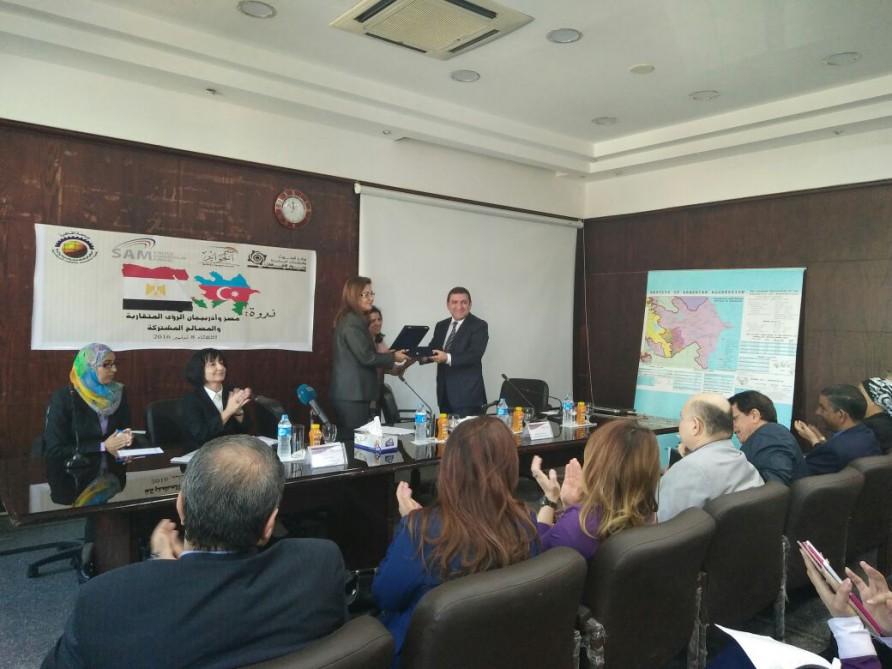 A conference highlighting Azerbaijani-Egyptian relations has been held at the centre Political Research and Studies and Intercultural Dialogue under the Faculty of Economic and Political Science of Cairo University, Azertac reported.
Deputy Director of the Center for Strategic Studies under the President of Azerbaijan Gulshan Pashayeva provided an insight into ties between the two countries.
She also spoke about Azerbaijan`s achievements in political, economic, educational and cultural fields over the last years, adding both countries supported each other within the international organizations.
Then, Gulshan Pashayeva met Head of the Egyptian Council for Foreign Affairs (ECFA) Ezzat Saad and discussed current state of ties between the two countries.
They talked about establishment of ties between Centre for Strategic Studies of Azerbaijan and Egyptian Council for Foreign Affairs.
During a meeting with editor-in-chief of Egyptian newspaper Al-Jumhuriya Fahmi Enbe, the parties praised cooperation between the two countries in political, economic and cultural fields.
Pashayeva highlighted the current state of negotiations over the settlement of the Armenia-Azerbaijan, Nagorno-Karabakh conflict. "Armenia`s aggressive policy is obstacle to regional development and security," she added.
---
Follow us on Twitter @AzerNewsAz