Baku protests Armenia's membership at Customs Union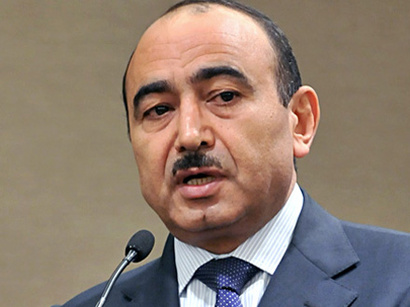 By Aynur Jafarova
Azerbaijan has officially voiced its protest against Armenia's joining the Customs Union before Yerevan withdraws its armed forces from Azerbaijan's occupied territories and Azerbaijan's territorial integrity is restored.
Head of the public and political issues department of presidential administration of Azerbaijan, Ali Hasanov, told Trend news agency on December 27 that since Armenia has occupied Azerbaijan's Nagorno-Karabakh region and seven surrounding districts, its entrance into any union or association is contrary to the principles of international law.
"The occupation of Azerbaijani territories by Armenia is noted in relevant resolutions and decisions of the UN, OSCE and other international organizations, and the demand for liberating the territories occupied by this aggressor country has been put forward," Hasanov said.
"Therefore, Armenia's entrance into the Customs Union or other similar structure is only possible after liberation of Azerbaijan's occupied lands," he added.
The Customs Union was established in 2010. The purpose of the organization is to form a single customs territory within which no customs duties or economic restrictions are applied. The Single Economic Space of the Customs Union started operating on January 1, 2012.
Hasanov went on to add that when Armenia joins a particular union, the country's territory and borders contradict international jurisdiction, due to violation of Azerbaijan's territorial integrity.
"This state should either officially declare its claims for occupied territories, and the structures that Armenia wants to enter should accept that, or it should return these lands and become member of new unions with UN-approved territories," the official underscored.
Armenia occupied over 20 percent of Azerbaijan's internationally recognized territory, including Nagorno-Karabakh and seven adjacent regions, after laying territorial claims against its South Caucasus neighbor that caused a brutal war in the early 1990s. Long-standing efforts by US, Russian and French mediators have been largely fruitless so far.
Nazarbayev's position on Armenia's membership to CU hailed
Spokesman of Azerbaijan's Foreign Ministry Elman Abdullayev said that the country welcomes Kazakh President Nursultan Nazarbayev's principled position on Armenia's membership at the Customs Union, comprising Russia, Belarus and Kazakhstan.
"Of course, the Azerbaijani borders recognized by the international community are not brought into a question. Given the drastic conditions of Armenia's expansionist policy against Azerbaijan, this country [Armenia] may join any organization or body only after de-occupation of the Azerbaijani territory," he said.
Kazakh president recently has said his country is ready to sign a road map on Armenia's accession to the Customs Union, but demanding clarification of issues regarding the Customs Union's borders arising in connection with the Nagorno-Karabakh problem.
Abdullayev again recalled that Armenia should respect the norms and principles of the international law and the Azerbaijani borders recognized at the international level.
"Armenia should withdraw its troops from Azerbaijan's occupied territories. Only after it Armenia may become a member of any body," Abdullayev noted.
Russia has power to influence Armenia
Süreyya Yigit, advisor of the Turkish Center for Middle Eastern Strategic Studies (ORSAM) on Eurasia, believes that only Russia has the political power and influence to set a condition for Armenia in this regard. "Realistically speaking neither Kazakhstan nor Belarus can have a greater or deeper impact," he stressed.
"So far, there are zero indications that Moscow would follow such a path," he said.
Touching on the possibilities of Azerbaijan's joining the Customs Union, the expert said Azerbaijan has taken steps towards establishing a market economy and diversifying its exports as well as halting over reliance on natural resources.
It would be in its best interests to keep all options open, perhaps free trade agreements with both the EU and the Eurasian Economic Community, Yigit thinks.
"As long as Azerbaijani territory is occupied by Armenia it is very difficult for Baku to agree on entering any new international organization with Yerevan without any meaningful prospect of righting this injustice," he underscored.