16 July 2020 15:16 (UTC+04:00)
1 410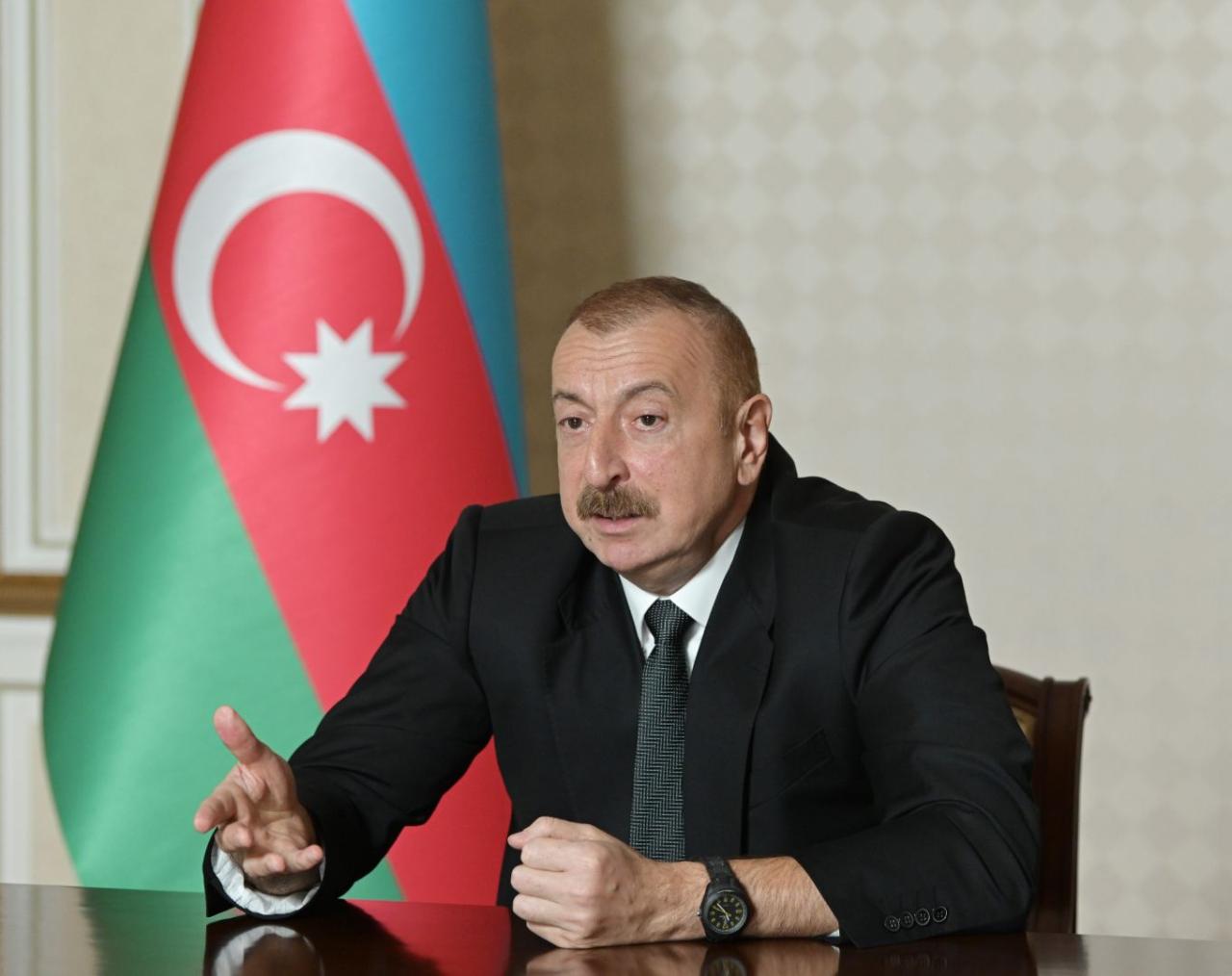 By Ayya Lmahamad
President Ilham Aliyev has said that the Azerbaijani people are tired of meaningless negotiations with Armenia over its occupied Nagorno-Karabakh region.
"Those who deal with this issue and those who put forward their mediation proposals these days must think about it. Azerbaijani people's patience is not inexhaustible. Today we have created a strong army. Today, the unity of the people and the government is the main guarantor of the development of stability in Azerbaijan. Therefore, we will not take a step back on the Armenian-Azerbaijani Nagorno-Karabakh conflict. Azerbaijan's territorial integrity must be restored, and we are firm on this issue," the president said.
He made the remarks during the video meeting of the Cabinet of Ministers on the results of socio-economic development in the first half of 2020 on July 15.
"Everything we do, we do with precision. Over the past four years, there have been three operations, three clashes. In all three, we have won. In all three, we have hoisted our flag where we wanted it. In all three, the enemy was hit with a crushing blow. Saying something more than that would be wrong," the president said.
Aliyev pointed out to Armenia's artillery strike on the Azerbaijani border on July 12 that killed Azerbaijani servicemen.
The president also denied Armenian allegations that Azerbaijani servicemen tried to cross the state border in a UAZ car, which allegedly started the clash.
"The question is which country's army is organizing an attack on the UAZ car with two officers and soldiers? Maybe the Armenian army is preparing such "wise" military operations, but neither Azerbaijani nor any other army of the world will take such an unwise step. That is, the main reason for Armenia to present this absurd version is to blame us, as always. But, this time nobody believed it. One doesn't have to be a military specialist not to believe in this absurd version," he said.
Aliyev said that the clash started with Armenia firing an artillery at Azerbaijan's poisition in the direction of Tovuz region.
"An artillery strike was fired at our military post, and our soldiers died as a result of this sudden ugly action. I gave all the relevant instructions to the Armed Forces to avenge our servicemen, as well as to Presidential Administration and Cabinet of Ministers to inform all international organizations about this sabotage," the president added.
Commenting on the fact that Armenia appealed to the Russian-lead Collective Security Treaty Organization (CSTO) following Azerbaijan's retaliatory attack, Aliyev said: "I reiterate once again that Azerbaijan has not violated Armenian state border, has not carried out provocation and has not crossed to the Armenian territory. In this case, what does CSTO have to do with this issue?"
"It shows that they will not resist Azerbaijan alone and they know it. We know that, too. Addressing the CSTO is another manifestation of their cowardice. They manifested the cowardice of their leadership yet again. Well, if you have committed provocation and crime, then answer for it. And they answered in full," the president said.
It should be noted that, the cross-border fighting between Armenia and Azerbaijan started on July 12 with Armenia's firing artillery at Azerbaijan's positions in the direction of Tovuz region.
On the night leading to July 14, five Azerbaijani servicemen, including a major general and colonel, were killed during the Armenian attack on the border.
In three days of fighting, the Azerbaijani army lost 11 officers and soldiers. One civilian was killed as a result of artillery fire by the Armenian armed forces.
Azerbaijan and Armenia are locked in a conflict over Azerbaijan's Nagorno-Karabakh breakaway region, which along with seven adjacent regions was occupied by Armenian forces in a war in the early 1990s. More than 20,000 Azerbaijanis were killed and around one million were displaced as a result of the large-scale hostilities.
The OSCE Minsk Group co-chaired by the United States, Russia and France has been mediating the Armenian-Azerbaijani conflict since the signing of the volatile cease-fire agreement in 1994. However, final peace deal has not been reached yet.
__
Follow us on Twitter @AzerNews
Related News