11 January 2017 12:31 (UTC+04:00)
3 299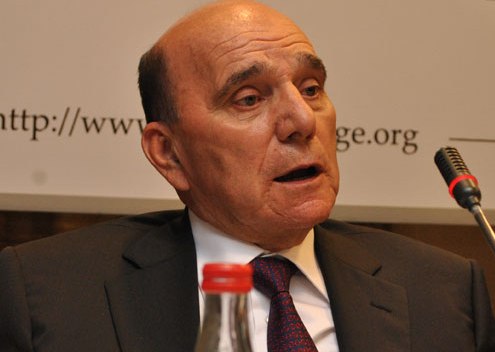 By Rashid Shirinov
The success of a petition, which was addressed to the White House in 2016 and was calling on the Obama administration "to assist in the liberation of the Azerbaijani territories occupied by Armenia", has put Armenia under increasing pressure due to the level of awareness it raised.
The remark was made by Elkhan Suleymanov, President of the Association for Civil Society Development in Azerbaijan, who initiated the petition.
"The White House's response to our petition was real political support to Azerbaijan," Suleymanov said.
The petition on "Establishing Justice and Preventing a Great Catastrophe" calls for the immediate withdrawal of Armenian armed forces from the occupied territory of Nagorno-Karabakh and surrounding regions, and to assist in the prevention of a humanitarian catastrophe in the region because of the dangers posed by the neglected Sarsang dam, which is located in the Armenian-occupied territory.
The US-based Pew Research Center reported that this petition has become the second most popular in the history of the platform, receiving more than triple the signatures needed to secure a reply by the Obama administration.
The White House, in its response to the petition, stressed the importance of "the return of the territories surrounding Nagorno-Karabakh to Azerbaijan's control" and urged Armenia and Azerbaijan "to demonstrate restraint and enter into an immediate negotiation on a comprehensive settlement," which would include "a determination of Nagorno-Karabakh's status."
The petition was submitted in the wake of Resolution 2085 adopted last year by the Parliamentary Assembly of the Council of Europe (PACE), which accused Armenia of "environmental aggression" and deliberately depriving Azerbaijanis of water flowing from the Sarsang reservoir. It also called for "the immediate withdrawal of Armenian armed forces from the region concerned."
"We had important victories last year," Suleymanov said, futher voicing regret that Armenia has not reacted to these demands and instead "creates confusion in the international community by presenting itself as a conflict party rather than an aggressor."
"It is critical that we continue to raise this issue, keep up international pressure and achieve the imposition of sanctions on Armenia," Suleymanov said.
The conflict between the two South Caucasus countries began in 1988 when Armenia made territorial claims against Azerbaijan. As a result of the ensuing war, in 1992 Armenian armed forces occupied 20 percent of Azerbaijan, including the Nagorno-Karabakh region and seven surrounding districts. The 1994 ceasefire agreement was followed by peace negotiations.
Armenia has not yet implemented four UN Security Council resolutions on withdrawal of its armed forces from the Nagorno-Karabakh and the surrounding districts.
Related News