InvestPro Azerbaijan Baku 2019 conference due in Baku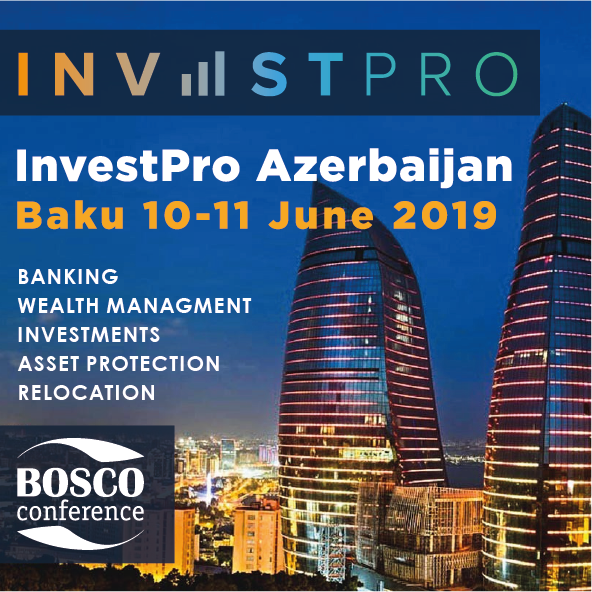 The InvestPro Azerbaijan Baku 2019 International business conference will be held on June 10-11 in Baku!
- How and what in to invest?
- New realities when cooperate with foreign banks
- Citizenship through investments in Europe, the USA and other countries
- Development of international structures for business and asset protection
You will receive the answers to these and other relevant and important questions at the InvestPro Azerbaijan Baku 2019 conference.
Conference format is B2C. InvestPro successfully combines an exhibition and a conference that allows you to meet with more than 23 professionals and discuss the most exciting issues in an informal atmosphere during coffee breaks, lunch and evening cocktails.
Who will come to the conference?
More than 250 delegates from 20 countries attend the InvestPro conference annually:
- Business owners
- General and financial directors
- Tax and financial advisors
- Bankers
- Asset Management Specialists
Conference speakers are from the UK, Liechtenstein, UAE, Switzerland, Latvia, Ukraine, Italy, Georgia, and of course Azerbaijan! Also we expect for professionals from Singapore, the USA, Canada, Russia, Luxembourg, Lithuania, Estonia and others.
What will you get at the conference?
- Exclusive insider information and new knowledge;
- Speakers will share successful cases, provide real practical solutions in their fields;
- Individual advice about your business;
- New useful and interesting meetings;
Registration until 24 th of May 2019, for 2 delegates from a company registered in Azerbaijan (only Top managers) is complimentary.
Registration for delegates from Azerbaijan after 24th of May - 300 AZN
The cost for delegates from other countries - 300 EUR.
If you register in advance, the company provides discounts:
Until 22 th of April – 270 EUR.
Conference Venue - JW Marriott Hotel Absheron Baku 5*
For more questions, please contact by phone +442035193484, +35722008684 or email [email protected] .
Follow Program updates on the site
We are waiting for you at the conference!