"Sound Waves" music festival ends in Baku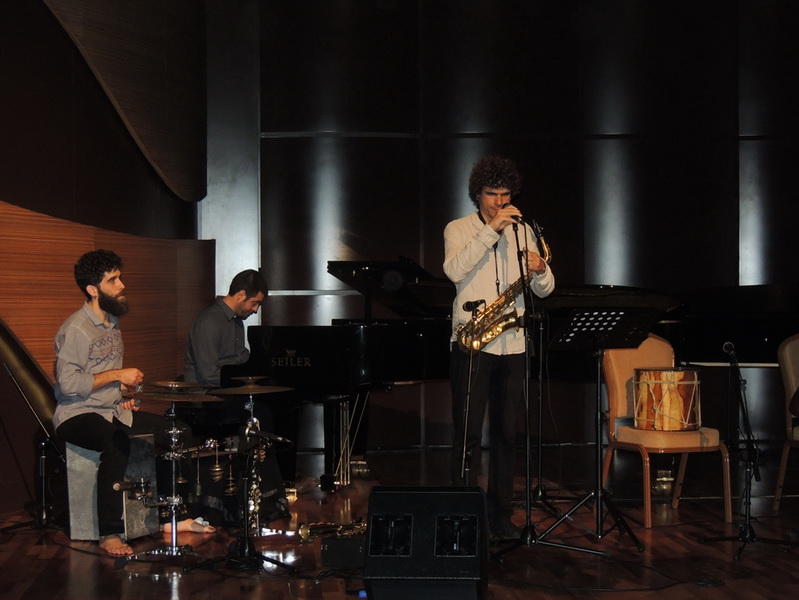 By Laman Ismayilova
Baku has left behind an unforgettable series of concerts by Azerbaijani and world-famous musicians within the "Sound Waves" folk festival.
Co-organized by the International Mugham Center, Italy-Azerbaijan Association as well as Center of Italy in Baku with contribution of Azerbaijan's Culture and Tourism Ministry, the festival wrapped up on May 26.
The "Sound Waves" so far brought together Azerbaijani, Greek and Italian musicians, while the final day of the festival featured the performance of Azerbaijani and Spanish musicians.
The concert received full attendance.
Jose Luis Díez, chargé d'affaires of the Spanish embassy in Azerbaijan, opened the event and thanked the organizers of the concert.
"We are pleased that Spanish music will be presented in Azerbaijan within the "Sound waves" project. For the first time, we'll hear a synthesis of our and Azerbaijani music. We invited our famous musicians and I hope we all will enjoy the concert," he said.
Then, Spanish jazz musicians Marcos Salcines (piano), Epi Pacheco (drums) and Antonio Lizana began their performance, that thrilled the attendees.
After playing the first song Antonio addressed the audience: "Good evening. I can't believe we are in this beautiful city - Baku. Thank you for the invitation. We mostly perform jazz music, but it's the first time we perform it in the synthesis with Azerbaijani mugham," said the saxophonist, and then taught the audience how to applaud during their performance to get into the rhythm.
The Spanish drummer was also in the center of attention, as the musician played an unusual drum with bells and went on stage barefoot.
Then, Azerbaijani musicians Bahruz Zeynalov (tar), Rafael Aliyev (kamancha), Nizami Aliyev (piano), Soltan Aliyev (naghara) and singers Sarkhan Bunyadzade took the stage.
The biggest surprise was an unexpected performance of the Azerbaijani folk song "Sari Gelin " by Antonio Lizana.
He also performed another national folk song "Ay Dili Dili Dilaver". These songs have been arranged by composer Kamala Alizadeh.
Let's hope that the project "Sound waves" will have its continuation, and we'll enjoy an interesting events with participation of Azerbaijani and foreign musicians in the near future.
---
Laman Ismayilova is AzerNews' staff journalist, follow her on Twitter: @Lam_Ismayilova
Follow us on Twitter @AzerNewsAz