14 September 2015 08:52 (UTC+04:00)
2 220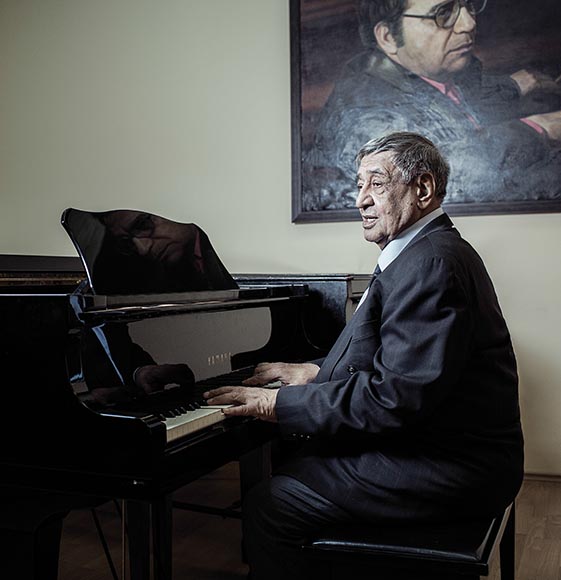 By Amina Nazarli
A living legend of Azerbaijani classical music, composer Arif Melikov has won widespread recognition and the love, not only in his country, but also far beyond its borders.
He is one of the most significant and outstanding personalities in the contemporary music of Azerbaijan, who celebrated his 82nd anniversary on September 13.
Melikov can truly be called a genius of the XX century. The composer had not yet turned his 28 when the premiere of his first ballet "Legend of Love" was staged at the Leningrad Academic Opera and Ballet Theatre.
For more than 50 years, the triumphal procession of "Legend of Love" could be heard around the world. The famous ballet has toured more than 80 countries, on stages in the U.S., Brazil, Germany, Czech, UK, Austria and Turkey.
The ballet gained a certain symbolic significance in the composer's life, bringing him worldwide fame.
Commenting on his most memorable tour, the composer described a trip to Paris, where he climbed a cherry tree and fell out of it. Regarding the incident, the French press wrote, "Our guest was so pleased with our cherries, he decided to try it. He climbed a tree and fell and was injured. By the way, this is the author of the famous ballet 'Legend of Love' – Azerbaijani composer Arif Melikov."
He wrote music for all musical genres starting from symphonies to movie scores and excelled in each one. He also wouldn't forget the younger generation and created interesting samples of music for children.
Most importantly, all of his works have a deep sense of national origin. He mixed modern music with the classical patterns of the Azerbaijani music, which made his work even more unique.
The main theme of his music was always a human with all of his complicated problems. The composer penetrates deeply into the one's inner world, feels all his innermost thoughts and feelings, share his joys, sorrows, and struggles against evil, thereby striving for purity and beauty.
That is why Melikov's music, though deep in its content, is accessible to everyone – as they describe real people.
His music, rich in emotional content, reveals the different aspects of reality and serves as a bridge between past and present.
The prominent composer was born to a family of no musicians. Up until he was 14, he never studied music. And when his parents bought a tar (national musical instrument) for young Arif, he decided to become a professional musician.
The great composer and outstanding national conductor Niyazi played a significant role in his creativity, showing him "the way to the orchestra."
His talent was noticed in his student years. While studying in the 3rd year at the conservatory, he once approached maestro Niyazi – who was characterized by his explosive character – to showcase his work.

At first, the maestro did not want to waste time on the young and inexperienced boy, however, after spending roughly 40 minutes to flip through the text, Niyazi said, "I'll play it." They had become inseparable friends since.
Melikov's music has made a significant contribution to the treasury of Azerbaijani ballet and symphonic music, writing eight symphonies, an operetta, symphonic poems, pieces for the symphony orchestra, and sonatas. Many of his works can be worthy considered classic examples of modern Azerbaijani music.
--
Amina Nazarli is AzerNews' staff journalist, follow her on Twitter: @amina_nazarli

Follow us on Twitter @AzerNewsAz
Related News