Ateshgah temple: attraction for visitors throughout centuries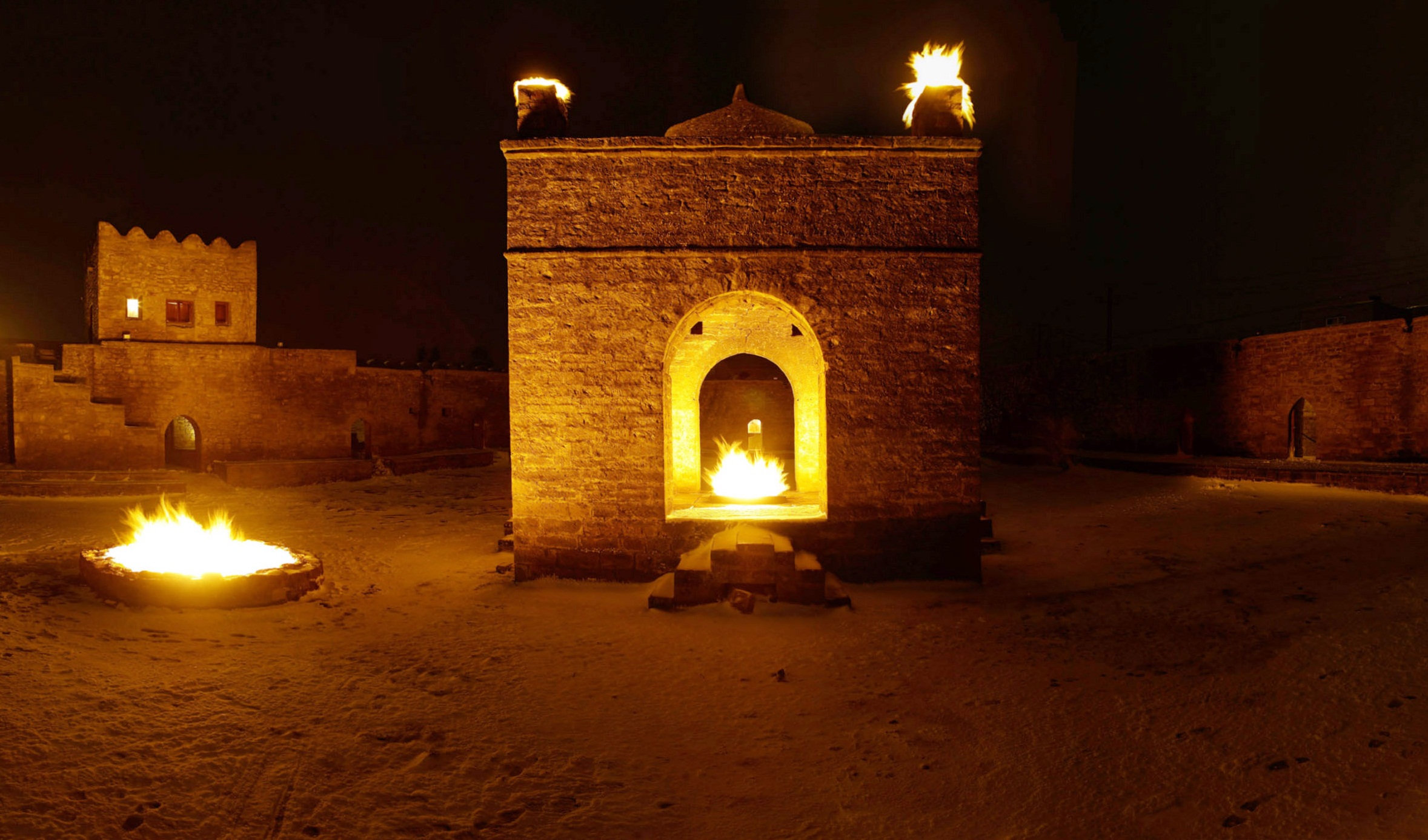 By Nazrin Gadimova
The first association with the word Baku is oil. Throughout centuries "black gold" which Absheron Peninsula is rich with has been attractive for everyone. The tongues of fire erupting from under the soil, which is flush with oil, have always impressed the imagination of people.
The sacred fire meant a lot not only for the life in Baku but for the whole country, leading to the birth of Zoroastrianism, which existed on the territory of Azerbaijan before Islam. "Three fires" are on the Coat of Arms of Baku and are the official symbol of the city.
Fire has played a great role in the life of Azerbaijanis at all times. Everburning, coming out from under the earth, it inspired a worshipful feeling in everyone. It was idolized, and fire temples were established. One of such sites is the Ateshgah temple near Baku, which means "House of Fire".
The fire-worshipping temple, situated 30 km away from Baku in Surakhani, on the Absheron Peninsula, has undoubtedly attracted the attention of tourists since it was opened for visiting after reconstruction in 1975.
Ateshgah in its modern appearance was built in the 17-18th centuries. Its territory is famous for such a natural phenomenon as burning gas (gas contacting oxygen erupted in flames).
The history of the temple goes back to the Sassanid Empire, when Zoroastrianism was the main religion in this region. But when the army of the Caliphate broke into the South Caucasus in 643, the Fire Temple fell into decay. In the 15-17th centuries Indian fire worshipers, who came to the Absheron with trade caravans, began to make pilgrimage to Surakhani and new buildings started to be constructed.
An impressive place, which is fascinating with its secrets, mysterious and dark appearance, with live tongues of fire coming out of the earth, has attracted a lot of outstanding people such as Alexander II of Russia, Orientalists Dorn and Berezin, writer Dumas, chemist and inventor Mendeleev, artists Vereshchagin and Ivanov, French and English travelers Vieland and Jackson.
The complex was nominated for UNESCO World Heritage Site status in 1998.
Currently Ateshgah is a museum and attracts the attention of many tourists. The temple is often visited by Iranian Zoroastrians who conduct their religious rites here.