Gerard Depardieu to advertise Azeri cuisine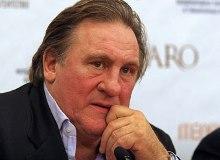 BAKU – French film star Gerard Depardieu will advertise Azerbaijani cuisine and has recently visited the capital city of Baku to shoot the commercial.
The script of the TV advert was presented to Azerbaijan's ministry of culture and tourism by CineX company, which had won a relevant tender.
The world-famous actor decided to star in the advert as he is said to be fond of delicious food and is an experienced wine maker.
According to the team producing the commercial, while in Azerbaijan Depardieu tried national dishes and enjoyed them very much.
This was Depardieu's second visit to Baku. Late last year, he was in Azerbaijan to become familiar with the local film industry.
This story is published by AzerNEWS Weekly under a project funded by the Foundation for State Assistance to the Development of the Media under the President of the Azerbaijan Republic.