Azerbaijani female artist, who conquers art world [EXCLUSIVE]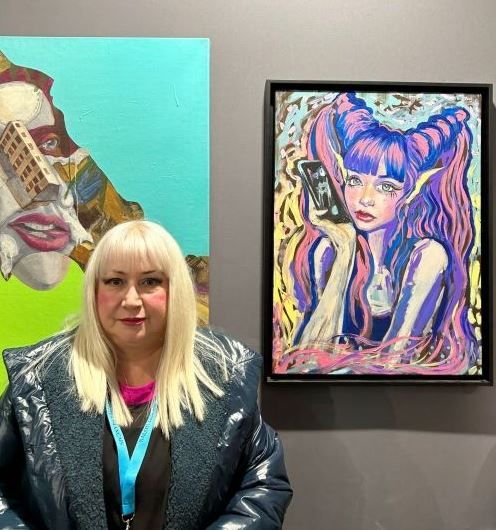 Azerbaijani artist Nigar Narimanbayova has left an indelible mark in the art field. With her unique art style, she achieved recognition on an unprecedented scale among modern artists. Full of heart-touching moments, her life story is equally enthralling as her art.
In her interview with AZERNEWS, Nigar Narimanbayova talks about the role of Shusha city in her life and the history of her family.
Q: In February, you represented Azerbaijan at Art En Capital 2023. Could you tell us a little about the event?
A: On February 14-19, Grand Palais Ephemere hosted Art En Capital 2023, a major international exhibition in the heart of Paris. The exhibition featured the Salon of French Artists, formerly known as the Paris Salon. With a history spanning over 400 years, this is the most important exhibition event since the time of King Louis XIV. The paintings for the Salon of French Artists have been carefully selected by a grand jury, which included secret academics. I am very proud that my painting was once again selected for the Salon of French Artists as part of Stella Art International Association. I have been a member of the association for many years. The Paris Salon gave us a catalog with paintings. I would like to note that Art En Capital was previously held under the patronage of the French kings and now it is under the patronage of French president Emmanuel Macron. The French Academy of Fine Arts highly appreciated my art work. Previously, the National Federation Of French Culture awarded me TOILE D'OR for my diptych Adagio. Four of my art works were also showcased in the Salon of Independent Artists. At the same time, Stella Art International Association hosted my solo exhibitions. For me, the Salon of French Artists is the pinnacle of achievements. Like Everest peak, not everyone can reach it. I am extremely pleased that I could get to the top.
Q: Please, tell us a little bit about the painting that you presented at Art En Capital 2023.
A: Within Art En Capital 2023, I presented my painting WhatsApp made in a complex technique of acrylic and oil paints. The art work is included into my series of art pieces inspired by the young generation, which are very bright and creative. The 13-15 years old teenagers inspired me to create this series of art works. As you know, not many artists depict teenagers and I was very glad to be the first one who drew attention to this rare art theme. I am very proud to take this niche, demonstrating the rising generation. My painting aroused great public interest. I am planning to show a cycle of this works in near future. The art series include graphic, pastel pencil, watercolor and oil paintings. The art works will be shown in Baku and Paris.
Q: How was your art work appreciated by the Parisian public?
A: Art En Capital 2023 started with a private exhibition for the French elite and creative community, where they saw the paintings for the first time. My painting was warmly received by the art lovers. Nobody expected that there would be such an interesting series. My paintings have long been loved by the Parisian public. The new series devoted to the young generation was also a great success. I am so proud that the painting by an Azerbaijani artist enjoys such great interest in Europe.
Q: Your artistic activity is inextricably linked with Stella Art International Association. What projects did you take part in being a member of the association?
A: I have been a member of Stella Art International Association for many years. I have been close friends with the association's president Stella Kalinina, for a very long time. Being a member of the association, I hosted two solo exhibitions in Paris. I am very proud to have been also involved in large-scale art projects like Salon Business Art 2014 held at Pierre Cardin Center and the exhibition themed Artists of the World held in Monaco and Cannes, where I presented a series of art works inspired by theater and ballet. The art works aroused great public interest. I would also like to note the exhibitions in the Russian Spiritual and Cultural Center at the Holy Trinity Cathedral in Paris as well as the exhibition titled "Russian Diary in Paris".
My diptych Adagio was named best as a result of online voting. The art work awarded the diploma of the Russian Academy of Arts, signed by the famous sculptor and academy's president Zurab Tsereteli. At Salon Business Art, I was awarded a diploma For Creating a Magical Enchanting Universe. Moreover, acclaimed art historian Jean-Charles Ache awarded the artists of Stella Art International Association with Grand-Prix. Also, the paintings of the association's artists were on display at Tauride Palace in Saint Petersburg. The 10th Anniversary International Festival of Fine Arts "Traditions and Modernity" held at Manege Central Exhibition Hall is also of special interest. Together with Stella Kalinina, I always come up with something new. She is a very creative, fashionable, modern and wonderful gallerist and does a great job for the association.
Q: A series of paintings of Shusha's beauties caused delight among art lovers. How did this art series come about?
A: I visited Baku when my country was fighting for the liberation of its lands. I came from Paris to Baku to be close to my people at that time. That's how the art series "Shusha's beauties" was born. The painting "Shusha's Beauty. Kharibulbul" personifies a young green-eyed lady, holding a Kharibulbul flower in her hand as a symbol of freedom and love for her homeland. It turned out that this painting became a harbinger of Azerbaijan's long-awaited victory. Known as Azerbaijan's cultural center, Shusha returned to its native harbor. The city has a special place in my life. My grandfathers and great-grandfathers were born in Shusha. In 1918, my grandfather Farman Yagub Narimanbayov was among 100 students, who were sent to study in Europe. While studying in the French city of Toulouse, he met with my grandmother Irma Larude. In France, my grandfather studied power engineering, while my grandmother studied to become a couturier. In 1924, they finally married and two years later my father Vidadi Narimanbayov was born in the city of Caen. Furthermore, my parents moved to Shusha, where my grandmother was often called the Karabakh Frenchwoman. She never ceases to amaze at the breathtaking beauty of Shush city. Next, they moved to Baku and grandfather started working as chief engineer at the Mingechevir hydroelectric power station. Meanwhile, my grandmother made costumes during the first decade of the Azerbaijani culture in Moscow and in the 30s. Furthermore, the grandfather was arrested during Stalinist repressions, only because he was born in a noble family and was married to a foreign woman. So, he was exiled to Kolyma (Russia), while my grandmother was exiled to Kazakhstan. Their children Vidadi Narimanbayov and Togrul Narimanbayov were put in the care of a nanny. They promised their mother to become artists. Only in 1961, my grandparents could return to Baku. Being a heroic woman, grandmother was able to overcome the exile and continued to sew beautiful costumes for the Baku public. Meanwhile, my grandfather also went back to his work. The green-eyed lady in my painting is a symbol of a strong unbroken woman who will overcome everything and will sit happy against the backdrop of free Shusha with Kharibulbul in her hands.
Q: Shusha has a special place in your life. What feelings did you experience visiting the city? Could you share with readers details about your participation in Kharibulbul Festival?
A: As I earlier mentioned. My family is a native of Shusha city. In a word, I am connected with Shusha by threads of love. I always believed that Shusha would be liberated. When I came back to Baku, I was among 13 artists who were invited to take part in the Kharibulbul Festival. I represented Azerbaijan at the festival. I am very proud that Leyla Aliyeva also demonstrated her amazing art work together with us. At the festival, we painted the plaster sculpture of Kharibulbul. Each of us painted the statue in an original way. I depicted the Shusha's beauty, the city's mosques, angels singing freedom, and a phoenix bird. I am eternally glad that our art works were also shown in Aghdam and on Jidir Plain. Our art works have personified the fact that art has returned to Shusha. Of course, when my foot hit the ground in Shusha, I couldn't believe my luck. I took a handful of earth with me to Baku, because this is the land of our ancestors, our cultural capital.
Q: What projects will you be involved in the near future?
A: There are so many projects that I want to work on. First, I will continue my series dedicated to teenagers. I also plan to hold my personal exhibitions in Baku and Paris. As for now, I am illustrating the books of Azerbaijani writer Lala Umid. Furthermore, I will share with you the upcoming art projects to be held in Paris.
---
Follow us on Twitter @AzerNewsAz