10th Gabala International Music Festival wraps up [PHOTO]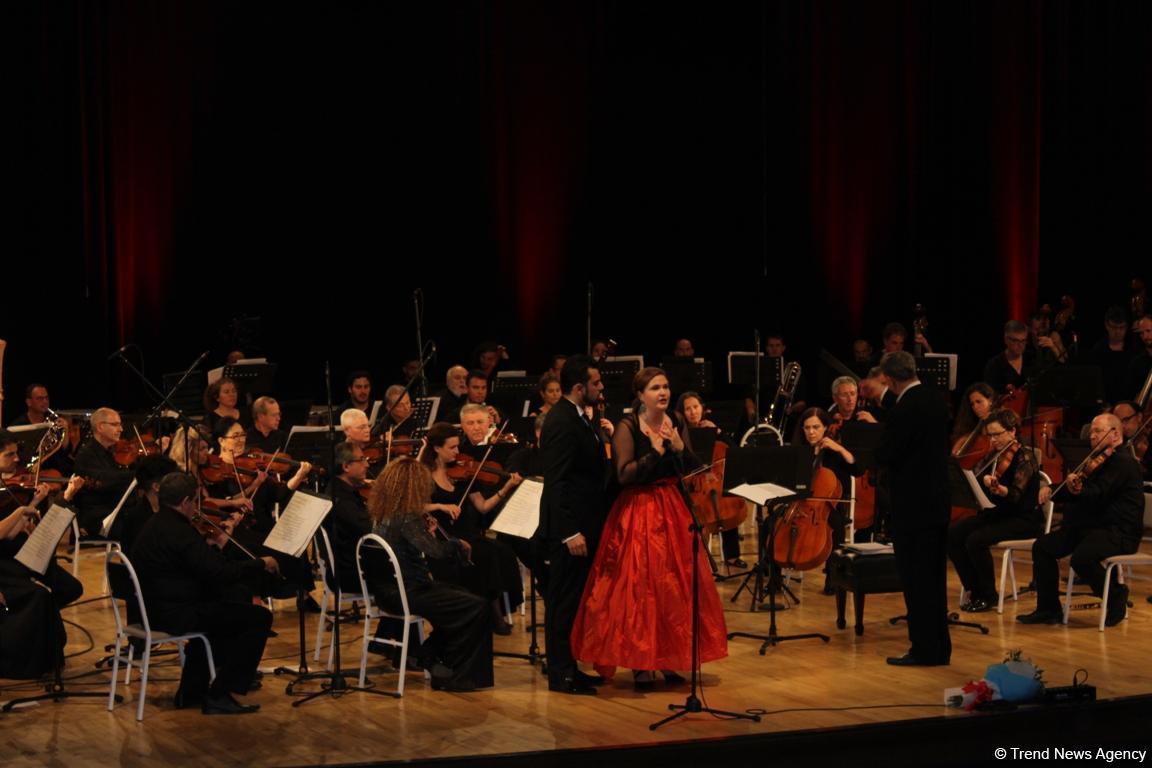 By Naila Huseynli
Closing ceremony of the 10th International Music Festival was held on August 7 in picturesque region of Gabala.
The Gabala Festival is a grandiose event of musical art, masterpieces performed by virtuosos and leading collectives from different countries of the world, the atmosphere of friendship, unity, harmony, and all this in one of the picturesque corners of Azerbaijan - the city of Gabala. Each day of the festival was special, and memorable musicians remembered incredible concert programs.
In an interview with the artistic director of the festival People's Artist of the USSR Farhad Badalbeyli noted that the program of the anniversary of Gabala International Music Festival was very interesting and diverse.
The People's Artist mentioned that, the significant factor of the festival is its enlightening in nature, and is not commercial.
The closing ceremony of the festival was marked by a grandiose concert program called "VİVA OPERA". The event was held in the Gabala Cultural Center.
The program was performed by the Jerusalem Symphony Orchestra led by the conductor Salvador Broughons (Spain). Soloists of the concert program are Adil Akhundov (tenor), Samir Jafarov (tenor), Kiara Isotton (soprano / Italy), Maharram Huseynov (baritone), Giorgi Chelidze (bass/Georgia), Mine Kurtoglu (soprano / Turkey), and Elnara Mammadova (soprano ).
In the performance of the vocalists arias from the operas of such famous composers as Giuseppe Verdi, Giacomo Puccini, Uzeir Hajibeyli, Wolfgang Amadeus Mozart, Sergei Rachmaninov, Gioacchino Rossini and others were performed.
Masterly skill of the musicians of the orchestra and conductor, impeccable technique of performing the vocalists won the audience. Every concert number was greeted with stormy applause and shouting "Bravo!"
The final concert of the 10th Gabala International Music Festival will be remembered for a long time by the magnificent voices of the soloists, the mastery of the conductor and the musicians of the orchestra, the incessant applause and delight of the grateful public. The festival ended with a festive salute.
Throughout the framework of the Festival, organized by the Heydar Aliyev Foundation and Gilan Holding, an interesting and diverse program was presented with the participation of well-known performers, conductors, musicians and collectives from Azerbaijan, Russia, Israel, the U.S., Austria, Switzerland, Spain, Georgia, Turkey, Cuba and other countries.