27 October 2015 18:00 (UTC+04:00)
1 687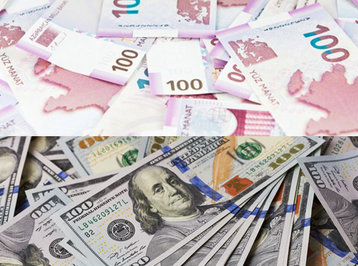 By Aynur Karimova
Azerbaijan's national currency, the manat, which was devalued in February 2015 following a decrease in oil prices, has regained its position in the region.
The World Bank believes that the real exchange rate of the manat is the most stable compared with other oil-exporting countries of the CIS.
In its "Low commodity prices and weak currency" report published on October 26, the World Bank said that the Azerbaijani manat has strengthened during the period of high oil prices, but after the devaluation of the national currency in February 2015, the real exchange rate was set close to its actual value.
In general, the bank expects that the decline in oil prices will also lead to a decrease in the current account surplus in Azerbaijan to 5.2 percent of GDP in the medium term.
"Despite the economic slowdown, the [Azerbaijani] government intends to protect vulnerable groups of the population and to prevent increasing poverty," the report says.
The World Bank's view on the manat is supported by economist Fuad Alizade, who believes that next year, the exchange rate of Azerbaijan's national currency will be strengthened against the U.S. dollar, and he excludes the possibility of the devaluation of manat.
He told local media that the Azerbaijani government is a proponent of financial stability, and another crash of the manat could lead to problems in the financial and banking field.
"Hypothetically, the devaluation [of the manat] is possible only if oil prices fall to $20... But the likelihood of such a scenario is 1 percent out of 100. Since, most likely, prices will be at the level of $60-$70 per barrel," the expert said.
Touching upon a recent forecast by the Credit Suisse bank on the significant strengthening of the Russian ruble, Alizade noted that this is profitable for Azerbaijan, given the fact that the country imports a major part of goods from Russia.
"Information that the manat could move to a floating exchange rate will not be confirmed at least in the next two years," he added.
Khagani Abdullayev, the Deputy Chairman of the Central Bank of Azerbaijan, also assured that the CBA sees no reason for the sharp fluctuation of the national currency.
"Stability is being observed in the currency market [of Azerbaijan]," he told local media. "The demand for foreign currency has been stabilized. The offer has been stabilized as well. The balance of payments of the country is currently balanced. We do not believe that there is a reason for the sharp fluctuation of the manat."
The CBA official also noted that the central bank plans to increase the flexibility of the manat in the medium term.
"However, we do not see a need for a sudden change of the exchange rate of the manat in 2015-2016," he added.
--
Aynur Karimova is AzerNews' staff journalist, follow her on Twitter: @Aynur_Karimova
Follow us on Twitter @AzerNewsAz
Related News