AZAL to receive new aircraft in 2014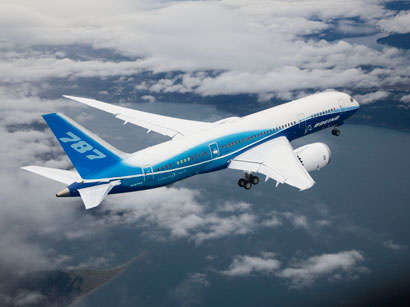 By Nazrin Gadimova
Azerbaijani Airlines, AZAL, will receive the first Boeing-787 Dreamliner aircraft in summer 2014, AZAL reported on January 17.
This will allow performing flights over longer distances, particularly to the North and South America, Southeast Asia and other regions of the world.
"It is expected that the second aircraft of this brand will be received in November, 2014," the report reads.
Moreover, AZAL received Embraer-190 aircraft in July, 2013, and expects to receive the two remaining Embraer soon.
The Boeing 787 Dreamliner, a long-range, mid-size wide-body, twin-engine jet airliner developed by Boeing Commercial Airplanes, is the company's most fuel-efficient airliner, according to the company, and the world's first major airliner to use composite materials as the primary material in the construction of its airframe.
The Boeing 787 has been designed to be 20 percent more fuel efficient, than the Boeing 767. The Dreamliner is able to place from 210 to 330 passengers.
AZAL, being the biggest Azerbaijani airline and national flag carrier, and a regional and CIS leader in the number of new aircrafts, offers its passenger flights to European countries, the CIS, Middle East, and Asia.
The company cooperates with about 60 airlines to provide its passengers with an opportunity to travel freely around the world. AZAL was certified by IATA Operational Safety Audit, a program that is an internationally recognized evaluation system designed to assess the operational management and control systems of an airline.