Ban on Caspian sturgeon fishing may be introduced in coming months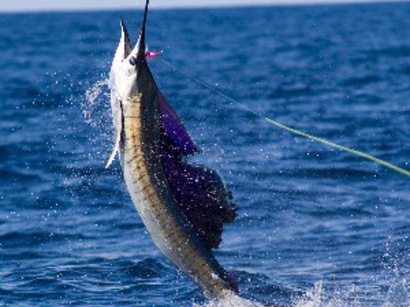 By Nigar Orujova
A ban on sturgeon fishing in the Caspian Sea could be introduced in a few months after a planned meeting of the Caspian littoral states the agenda of which includes a discussion of the issue, Head of Russia's Federal Fisheries Agency Andrei Krayniy told reporters.
"We expect a meeting of the leadership of the Caspian countries at the highest level in the coming months. Moreover, there is an agreement that the final report of the summit will include two novelties that affect us. The first one is a five-year moratorium on sturgeon fishing in the Caspian Sea," he said.
Krayniy said this is an extremely important task, which was previously repeatedly raised, even by the heads of state, but the issue has yet to be solved. Enforcement of a full moratorium is expected to restore the sturgeon population to the point that allows launching commercial production of this valuable fish species in five years.
"The moratorium will be introduced. And I suppose not if, but when we introduce it and help the nature -- there are a lot of young sturgeons in the northern Caspian -- then within five years it will be possible to talk about the beginning of cautious industrial catch," Krayniy said.
The other major novelty, he said, will be raising the status of the Fisheries Commission, which currently is an interdepartmental body and whose solutions are rather informative than obligatory.
"We have agreed to upgrade its status to an intergovernmental one. If the proposal is accepted, the decision [of the commission] will be mandatory for all the participants in all the five countries," he said.
The resource-rich basin is shared by the coastal nations -- Azerbaijan, Kazakhstan, Russia, Turkmenistan and Iran.
Russia has not carried out fishing of sturgeons in the Caspian Sea for several years. Azerbaijan, Kazakhstan and Iran are ready to support the proposal to ban sturgeon fishing while Turkmenistan is still contemplating its position.
A meeting of the commission on bio-resources of the Caspian was held in Baku in April to discuss a wide range of issues including sturgeon fishing and national fishing quotas. The meeting had been purposed to coordinate cooperation for the effective use of biological resources of the Caspian.
141 fish species are registered in the Caspian Sea, and the main fishery in the region, a sturgeon fishery, is operated using this basin's resources. Some 90 percent of the popular black and red caviar sold all over the world comes from the Caspian.
Sturgeon fishing in the Caspian was allowed only for scientific research purposes in 2012. The decision was passed at a meeting of the water and biological resources commission held with the participation of representatives from Azerbaijan, Kazakhstan, Russia, Turkmenistan and Iran.