First solid waste sorting plant opens in Azerbaijan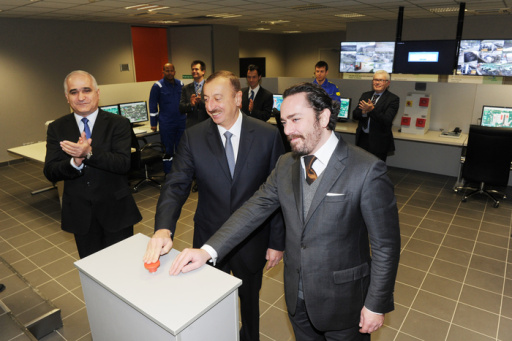 By Nigar Orujova
Azerbaijani President Ilham Aliyev opened a municipal solid waste sorting plant in the Balakhani settlement of the capital Baku on Wednesday.

The president viewed the administrative building of the plant and the working mechanism of the facility.
Economic Development Minister Shahin Mustafayev informed the president about the work done in the area of waste management.
Aliyev was told that the plant is Azerbaijan's first pilot project in this field.
The Solid Waste Sorting Plant will develop recycling business in the country and will annually receive about 200,000 tons of solid waste, including glass, plastic, paper and colored metal.
Suitable material chosen for sorting and recycling will reduce the overall volume of solid waste.
According to the State Statistics Committee, 4,583 cubic meters (1 million tons) of solid waste emerged in Baku in 2011. About 885,000 tons of that waste was transferred to Tamiz Shahar company, which was established to work to improve the environmental situation of the capital city through disposal of solid household waste in accordance with modern standards.
According to research conducted as part of the Integrated Solid Waste Management program by the World Bank and Economic Development Ministry, the annual solid waste volume in Baku is 350 kilograms per capita.
Waste sorting and reprocessing are the main utilization issues pertaining to waste management. Sorting will produce a secondary raw materials market as well as protect natural resources, energy, the country's territory and environment. Taking into account all these factors, waste sorting is one of the top priorities for Tamiz Shahar in its waste management practices.