Electricity production increases by 5.8 percent in Azerbaijan [PHOTOS]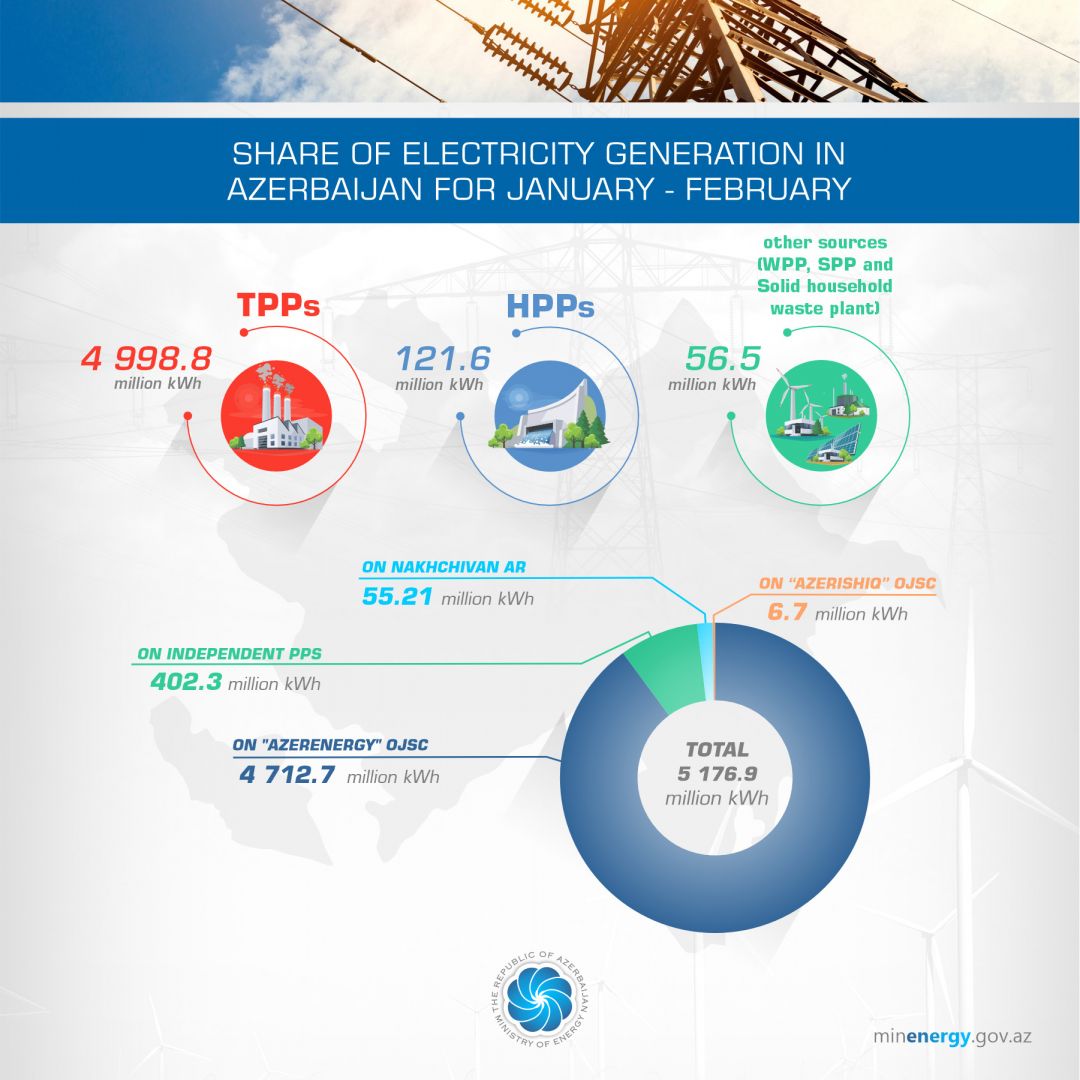 January-February 2023, electricity production in Azerbaijan increased by 282.3 million kW/h or 5.8 percent compared with the same period of 2022 and amounted to 5,176.9 million kW/h, Azernews reports, citing the Energy Ministry.
According to the information received from the ministry, electricity production at TPP increased by 313.7 million kW/h, amounting to 4 998.8 million kW/h, at HPPs decreased by 33.0 million kW/h, amounting to 121.6 million kW/h, and on other sources (WPP, SPP, and Solid Household Waste Incineration Plant) increased by 1.54 million kW/h, amounting to 56.5 million kW/h.
In 2 months of 2023, electricity generation made up 4 712.7 mln kWh on Azerenergy OJSC (4 598.0 mln kWh at TPPs, 114.7 mln kWh at HPPs), 55.21 mln kWh on State Energy Agency of Nakhchivan AR (41.47 mln kWh at TPPs, 6.09 mln kWh at HPPs, 7.65 mln kWh at SPP), 6.7 mln kWh at WPPs on Azerishig OJSC, and 402.3 mln kWh on Independent PPs).
In the reporting period, electricity imports amounted to 21.0 million kWh while exports amounted to 840.1 million kWh.
We should note that the production of electricity in Azerbaijan in February 2023 compared to the same period in 2022 increased by 82.5 million kW/h or 3.5 percent, amounting to 2417.1 million. kW/h.
During the month, exports of electricity production amounted to 10.13 million kWh, and imports to 335.8 million kWh.
---
Follow us on Twitter @AzerNewsAz