Overhaul at Baku-Boyuk Kesik railway section underway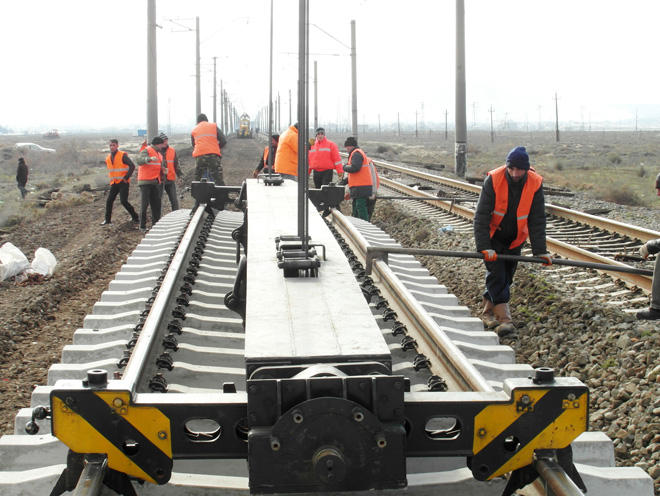 By Sara Israfilbayova
Azerbaijan Railways CJSC has launched the next stage of the work in the framework of project on overhauling the Baku-Boyuk Kasik railway.
Sevinj Gadirova, the spokesperson for Azerbaijan Railways, said that the overhaul of the 7.8-km Tovuz-Govlar section began on January 19, adding that the reconstruction work will last five days.
The overhaul project of the 600-kilometer Baku-Boyuk Kesik railway, which is a part of the Baku-Tbilisi-Kars (BTK) railway project, was launched in October 2015. To date, 435 kilometers of the railway have been reconstructed.
Azerbaijan Railways CSJC and Czech company "Moravia Steel" has signed an additional agreement to refurbish Baku-Boyuk Kesik railway in April 2015.
After reconstruction, the average speed of trains on the Baku-Boyuk Kesik route is expected to reach 140 kilometers per hour.
On October 30, a solemn ceremony was held at the Baku International Sea Trade Port on the occasion of the opening of the BTK railway. Two routes from Kazakhstan to Turkish Mersin have already been sent by this route. The first train, consisting of 30 containers, on November 4, delivered 600 tons of wheat to the Turkish city of Mersin. The second freight train left Kazakhstan on November 27. At present the train reached Georgia.
The BTK railway is constructed on the basis of the Azerbaijan-Georgia-Turkey intergovernmental agreement. The main purpose of the project is to improve economic relations between the three countries and gain foreign direct investment by connecting Europe and Asia.
The project implementation began in 2007 and construction began in 2008. The line is intended to transport one million passengers and 6.5 million tons of freight at the first stage. This capacity will then reach 3 million passengers and 17 million tons of cargo.
---
Follow us on Twitter @AzerNewsAz