Azerbaijan Railways: Baku-Tbilisi-Kars railway constructed [UPDATE]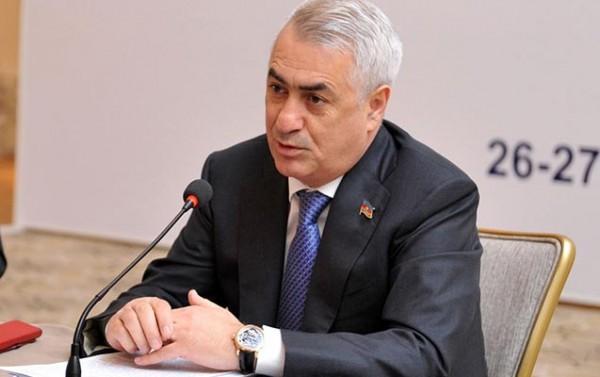 By Sara Israfilbayova
Azerbaijan is well-known worldwide as a reliable energy supplier, of both oil and gas.
Rovnag Abdullayev, president of Azerbaijan's state oil company SOCAR made the remarks during the Argus Azerbaijan International Petroleum Summit 2017 in Baku on October 12.
Abdullayev also spoke about Azerbaijan's biggest projects in oil and gas production.
"We managed to achieve stable production at 9 billion cubic meters of gas per year at the Azerbaijani Shah Deniz field," he said. "The production will increase by 16 billion cubic meters of gas as part of the Stage 2 of the field development. All segments of the Southern Gas Corridor project are being implemented on schedule."
The Southern Gas Corridor is one of the priority energy projects for the EU. It envisages the transportation of gas from the Caspian region to the European countries through Georgia and Turkey.

At the initial stage, the gas to be produced as part of Stage 2 of Shah Deniz field development project is considered as the main source for the Southern Gas Corridor projects. Other sources can also connect to this project at a later stage.
As part of Stage 2 of the Shah Deniz project, gas will be exported to Turkey and European markets by expanding the South Caucasus Pipeline and the construction of Trans Anatolian Natural Gas Pipeline and Trans Adriatic Pipeline.
Abdullayev went on to say that a new contract on development of Azeri-Chirag-Gunashli (ACG) block of oil and gas fields signed in Baku in September implying more favorable conditions for Azerbaijan proved once again the strength of the country's economy.
"When the first contract was signed in 1994, the ACG reserves were estimated at 510 million tons," he said. "But it has been revealed over the past 20 years that more than 550 million tons of reserves are available besides the extracted oil."
The ACG field, which lies 120km off the coast of Azerbaijan, is considered to be the largest oilfield in the Azerbaijan sector of the Caspian Sea.
The proven oil reserves of the block amounts to approximately 1 billion tons.
Shareholders of the ACG development include BP with 35.8 percent, Chevron with 11.3 percent, Inpex with 11 percent, AzACG with 11.6 percent, Statoil with 8.55 percent, Exxon with 8 percent, TRAO with 6.75 percent, Itochu with 4.3 percent and ONGC with 2.7 percent.
Further, head of SOCAR's Marketing and Economic Operations Department Adnan Ahmadzade stressed that the company plans to pump up to 1.5 million tons of oil via the Baku-Novorossiysk pipeline in 2018.
"It is also possible that some volumes will be redirected," he said. "The negotiations with the Russian side on the possibility of redirecting some volumes via the Baku-Tbilisi-Ceyhan pipeline are underway, but they are complicated by economic conditions."
SOCAR exported 1.16 million tons of oil via the Baku-Novorossiysk pipeline in January-September 2017 as compared to 898,050 tons in the same period of 2016.
SOCAR exported 1.22 million tons of oil via the Baku-Novorossiysk pipeline in 2016 as compared to 1.27 million tons in 2015.
In turn, Azerbaijani Deputy Energy Minister Natig Abbasov stressed that Azerbaijan fully meets its own demand for oil and gas.
Javid Gurbanov, chairman of the Azerbaijan Railways CJSC, in turn, mentioned that the Baku-Tbilisi-Kars (BTK) railway has been fully constructed, adding that the commissioning ceremony of the BTK railway will be held at the end of the month.
The BTK railway is constructed on the basis of the Azerbaijan-Georgia-Turkey intergovernmental agreement. The main purpose of the project is to improve economic relations between the three countries and gain foreign direct investment by connecting Europe and Asia.
The line is intended to transport one million passengers and 6.5 million tons of freight at the first stage. This capacity will then reach 3 million passengers and 17 million tons of cargo.
The first test train on the Baku-Tbilisi-Kars (BTK) route left Turkey for Georgia on July 20.
He went on to say that the first freight trains will operate on the Astara (Azerbaijan) - Astara (Iran) railroad section in late November 2017.
Alexey Dzyuba, director of trading at LITASCO SA (100 percent subsidiary of LUKOIL), addressing the event underlined that Russia's LUKOIL company is in talks with Azerbaijan's state oil company SOCAR to continue supplies of Russian oil via the Baku-Tbilisi-Ceyhan (BTC) oil pipeline.
The total length of the BТС pipeline, construction of which started in 2003, is 1,768 kilometers, including a 443-kilometer section running through Azerbaijan, a 249-kilometer section in Georgia and a 1,076-kilometer section in Turkey.
BTC Co. shareholders are: BP (30.1 percent), AzBTC (25 percent), Chevron (8.9 percent), Statoil (8.71 percent), ТРАО (6.53 percent), Eni (5 percent), Total (5 percent), Itochu (3.4 percent), Inpex (2.5 percent), CIECO (2.5 percent) and ONGC (2.36 percent).
The Argus Azerbaijan International Petroleum Summit 2017 is organized by global energy and commodity price reporting agency Argus and SOCAR.
Key topics of the summit: Caspian – Mediterranean Transportation Corridor Development Prospects; Regional Crude and Products Markets; Crude and Products Exports from Azerbaijan: Main Routes; Caspian Logistics Infrastructure: Rail Transportation and Tariff Policy, Shipowners, Ports and Terminals; Regional Pipeline Routes: Reality and Developments Prospects; Project Financing in Iran. Islamic Financing; Specific Characteristics of Crude Swap Deliveries from the Caspian Region; Petrochemical Industry in the Caspian Region: Production, Transportation and Trading.
---
Follow us on Twitter @AzerNewsAz