Kazakhstan to increase gas exports to China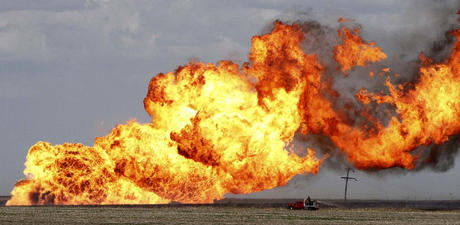 By Kamila Aliyeva
Energy-rich Kazakhstan intends to increase the export and transit of gas to China up to 100 billion cubic meters per year.
This was announced by Erkanat Temirkhanov, Deputy General Director for Transformation and Development of KazTransGas JSC, who spoke at the 16th ERRA conference on investments and energy regulation, Kazinform reported.
"In connection with the commissioning of Beiney-Bozoy-Shymkent at full capacity, we are building a powerful compressor station. We want to increase the export and transit of gas to China to 100 billion cubic meters per year, and maybe even more," he said.
Kazakhstan holds 0.8 percent of the world's natural gas proven reserves, and produces 0.6 percent of the world's total gas output, according to the BP's statistics 2015.
The country serves as a major transit country for gas exports from Turkmenistan and Uzbekistan that are destined to Russia and China. Volumes from Turkmenistan and Uzbekistan are transported through the Central Asia-China gas pipeline network that links with CNPC's Second West-East Pipeline in western Xinjiang province at the border with Kazakhstan.
The volume of gas exports rose by 7.9 percent in 2016 to 13.7 bcm.
In a bid to increase the country's gas industry in 2018-2024, the government is considering the Amangeldy deposit not only as a resource base, but also storage.
The Amangeldy gas field in Jambyl region of Kazakhstan will be used as a large gas storage facility, according to Temirkhanov.
KazTantransGas has a subsidiary company Amangeldygas, through which it is planned to bring the volume up to 500 million tons a year. It's our subsidiary located in Jambyl region, he said.
Temirkhanov added: "For now, we are ready to transport 10 billion cubic meters of gas only to China. But we are working with Uzbekistan, Turkmenistan and Russia - its Gazprom."
"Today, together with our scientists and other investors, we are developing a project for using Amangeldygas as a large gas storage facility. The available capacities for us are already not enough. We are thinking about the prospects for the growth of gas transportation to China, we will need a large gas storage facility in the south," Temirkhanov explained.
KazTransGas JSC is the largest gas supply company in the Republic of Kazakhstan, representing the interests of the state on domestic gas market and worldwide. KazTransGas operates natural gas transport via main gas pipelines, sales natural gas on domestic and foreign markets, develops, finances, constructs and maintains pipelines and gas storages.
KazTransGas operates a huge gas transportation system, which includes more than 30,000 kilometers of gas distribution networks, more than 15,000 kilometers of main gas pipelines, 56 compressor stations that have installed 316 gas compressor units and 3 underground gas storage.
Currently, KazTransGas is represented in 10 regions of Kazakhstan which are Almaty, Aktobe, Atyrau, East Kazakhstan, Zhambyl, West Kazakhstan, Kostanai, Kyzylorda, Mangystau and South Kazakhstan regions.
Kazakh gas is expected to face strong competition from Turkmen, Uzbek and Russian gas supplies under long-term contracts with China.
A majority of Kazakhstan's proved natural gas reserves and natural gas production is possible thanks to the Karachaganak field. The Karachaganak field's gas reserves are estimated at 1.35 trillion cubic meters while oil and liquid condensates around 1.2 billion tons.
About 49 percent of Kazakhstan's gas production and 18 percent of its produced oil are extracted from this field.
---
Kamila Aliyeva is AzerNews' staff journalist, follow her on Twitter: @Kami_Aliyeva
Follow us on Twitter @AzerNewsAz