9 June 2016 14:40 (UTC+04:00)
1 959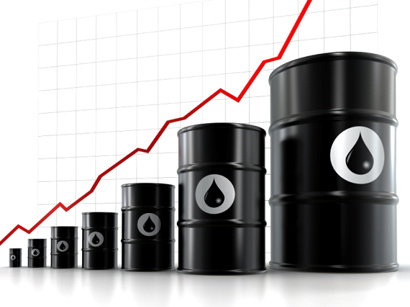 By Fatma Babayeva
An upward trend is being observed in global oil prices this week as Brent prices climbed to new highs since last summer.
On June 8, price of Brent contracts hit above $52 a barrel and on Tuesday, $51 a barrel.
August futures of Brent crude were traded at $52.72 per barrel on June 9, [2:15 am] in London ICE, which is 0.4 percent increase compared to its price on June 7.
Meanwhile, July futures of WTI crude oil rose by 0.59 percent to $51.53 per barrel on June 9 [2:15 am].
A barrel of Azeri Light crude cost to $51.48 by experiencing $0.76 increase on June 8.
OPEC's oil basket was sold at a relatively lower price - $46.54 a barrel.
In the meantime, a fall was reported in the U.S oil inventories this week, which was the third weekly drop in a row.
U.S. crude stocks dipped by 3.23 million barrels to 532.5 million barrels last week according to the date from the U.S. Energy Information Administration (EIA).
Weak dollar had a positive impact on crude prices during recent month as well.
Additionally, wildfires in Canada, one of the largest oil sand holders in the world, cut about one million barrels a day of oil supply to the market. Moreover, Africa's biggest oil producer Nigeria still suffers from unrest within the country which negatively affected its oil production which hit bottom of last three decades (1.45 million barrels a day in May).
Some experts believe that these declines will boost rebalancing of the market and resolve oil glut issue. Some even make bullish forecasts on oil prices to up to $70 in 2016-2017.
Nevertheless, several energy specialists say that once more supplies come back to the market from Canada, Nigeria and Libya, the price will go down again. However, it will take some time for sure.
Moreover, the number of oil rigs returned to operation in the U.S. as oil prices amount to $50 a barrel now.
Iran also strives to bring its oil exports to the pre sanctions level of 2.2 million barrels a day by the end of this summer in the longest. Current oil output of Iran equals to 3.82 million barrels per day compared to 4 million barrels a day before sanctions imposed.
EIA expects global oil demand to rise to 95.26 million barrel per day in 2016 and 96.73 million barrels per day in 2017, the agency noted in its short-term energy outlook.
Global oil demand in 2015 amounted to 93.81 million barrels per day, according to EIA. In the first quarter of 2016, this figure totaled to 94.22 million barrels per day. For the second quarter of the current year, the demand is expected to reach 95.1 million barrels a day.
EIA projects global oil demand to surge to 97.45 million barrels a day in the third quarter of 2017.
In addition, the agency forecasted Brent oil prices to average $43 a barrel in 2016 and $52 a barrel in 2017.
Recently, the World Bank (WB) projected a decline on oil prices in the market in 2016. This plunge will be replaced by the rise in 2017, according to the bank's latest global economic prospects report.
The average oil price for the current year was forecasted by the WB at $41 per barrel.
In addition, the bank expects oil prices to make up $50 per barrel in 2017.
In mid May, the U.S. bank Goldman Sachs lowered its U.S. crude price outlook for 2017 to $52.50 from $57.50 per barrel as it said markets would return to surplus by the first quarter of 2017.
Furthermore, after failure of OPEC's Vienna meeting, Capital Economics retains its end-2016 forecast at $45 a barrel for Brent, a few dollars lower than current prices, rising to $60 only 12 months later.
---
Fatma Babayeva is AzerNews' staff journalist, follow her on Twitter: @Fatma_Babayeva
Follow us on Twitter @AzerNewsAz
Related News