Helicopters, vessels search missing oilmen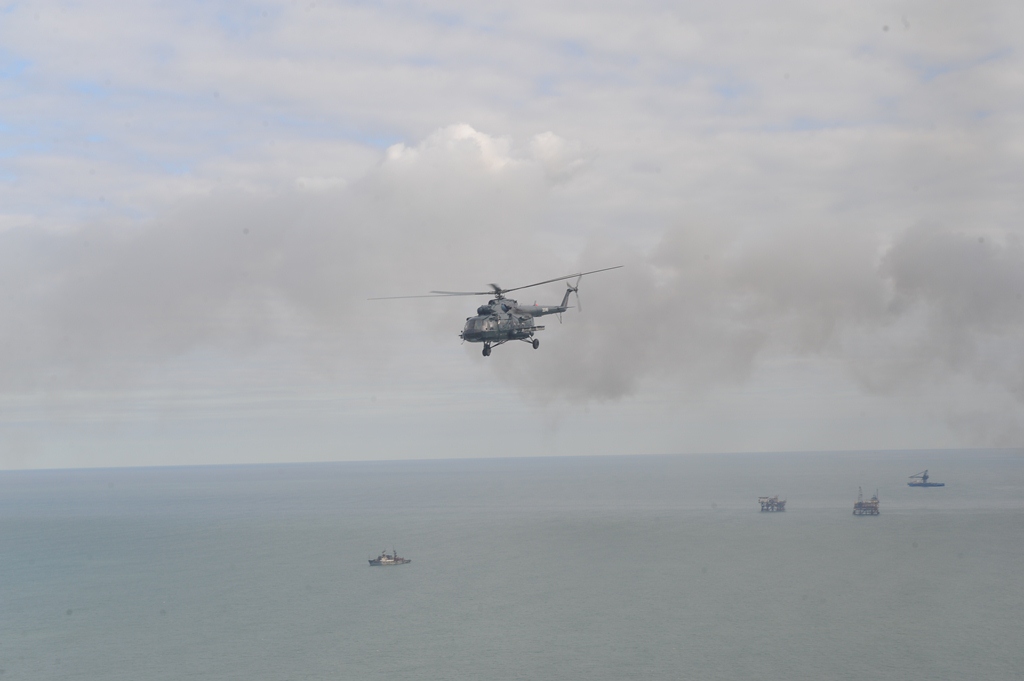 By Aynur Karimova
Search for missing oil workers in the Caspian Sea is still underway.
Helicopters of the Azerbaijani Emergency Situations Ministry and additional vessels joined the search operations, Trend reports with reference to the headquarters created in connection with the disaster.
The State Rescue Service is also continuing the search along the sea shore.
On December 4, a fire broke out on the offshore platform #10 of SOCAR's Gunashli field, after an underwater high-pressure gas pipeline was damaged in strong storm. Out of 63 people who were on platform at the moment of accident only 33 were rescued, while 23 are still regarded missing with seven dead.
Also, as a result of the storm, a booth on base #501 got washed out to the sea at approximately 12:30 local time, on December 4. At the time, the booth contained three people - Javad Khudaverdiyev, Bahman Jafarov and Rovshan Mammadov.
The Azerbaijani State Border Service told Trend that search for missing oil workers in the Caspian Sea is daily carried out by seven ships and six helicopters of the Azerbaijani State Border Service and helicopters of the Emergency Situations Ministry of Azerbaijan.
The search operations currently cover a distance of 100-150 kilometers from the platform #10 of the offshore Gunashli oil field, where the fire occurred. In addition, the search is carried out along the coast from both the air and land.
The Service also noted that lifejackets, buoys and parts of the lifeboat from the oil platform #10 have been found during the search work.
The Emergency Situations Ministry held a meeting on December 10 and decided to involve one plane and four helicopters in the search works.
It was also decided to involve six helicopters and seven ships of the State Border Service, additional rescue forces from the State Water Rescue Service of the Emergencies Ministry and the Special Risk Rescue Service.
One-time financial aid approved
Meanwhile, Prime Minister Artur Rasizade signed a decree on December 10 in connection with the accident at the platform #10.
The document stipulates a one-time financial aid of 15,000 manats (over $14,000) to the family of each killed and missing oilman, with a view to execute the decree signed by President Ilham Aliyev on December 5, and given the proposals of the state commission created with regard to the accident on the offshore platform #10.
The decree comes into force from the date of its signing.
--
Aynur Karimova is AzerNews' staff journalist, follow her on Twitter: @Aynur_Karimova
Follow us on Twitter @AzerNewsAz