UK Parliament may discuss visit of separatist NKR regime's head to London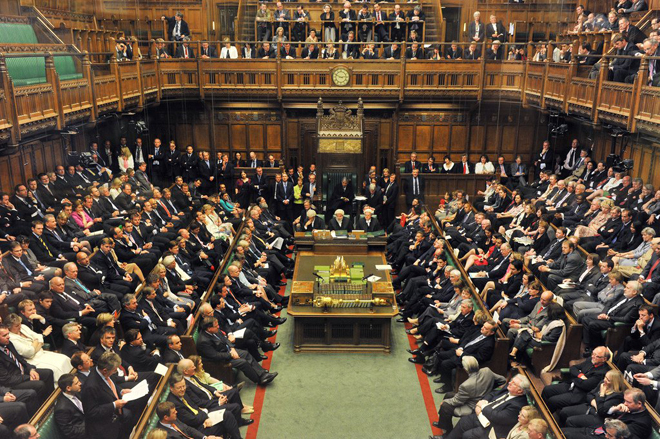 By Sara Rajabova
The House of Commons of the British parliament may discuss the issue of invitation of Bako Saakyan, the head of the separatist regime in Azerbaijan's occupied Nagorno-Karabakh region, to London to an event at the Royal Institute of International Affairs Chatham House.
The proposal for discussion was made by House of Commons member Bob Blackman, the secretary of Azerbaijani-British inter-parliamentary group of friendship, the European Azerbaijan Society (TEAS) reported on July 22.
The proposal was supported by Labor Party MPs Roger Godsiff and Alan Mill, according to the report.
"The House of Commons of the parliament expressed concern over the invitation of head of the self-proclaimed 'Nagorno Karabakh Republic' Saakyan to speak at Chatham House and requested a formal apology from the Royal Institute," the document said.
Addressing the members of the parliament, Blackman mentioned that Armenian aggression resulted in the occupation of Nagorno-Karabakh and seven adjacent regions, and highlighted the fact that about one million Azerbaijanis were forced to leave their homes.
"I believe that the decision by any organization to invite to the country the person who committed injustice against people, and giving him a tribune to speak is the extremely wrong. The UN Security Council has adopted four resolutions on the Armenian-Azerbaijani Nagorno-Karabakh conflict, and they are still not observed," Blackman said.
Earlier, Azerbaijan expressed protest to the UK over the possible visit of the head of the separatist regime of Nagorno-Karabakh.
For over two decades, Azerbaijan and Armenia have been locked in a conflict that emerged over Armenia's territorial claims against its South Caucasus neighbor. Since a war in the early 1990s, Armenian armed forces have occupied 20 percent of Azerbaijan's territory, including Nagorno-Karabakh and seven surrounding regions.
Following the conflict between Armenia and Azerbaijan, the separatist regime was established in Azerbaijan's occupied Nagorno-Karabakh regime.
A fragile ceasefire has been in place since 1994, but long-standing efforts by U.S., Russian and French mediators have been largely fruitless so far.
Armenia has not yet implemented any of the four U.N. Security Council resolutions urging a pullout from its neighboring country's territories.
--
Sara Rajabova is AzerNews' staff journalist, follow her on Twitter: @SaraRajabova

Follow us on Twitter @AzerNewsAz