Azerbaijan`s Republic Day celebrated in London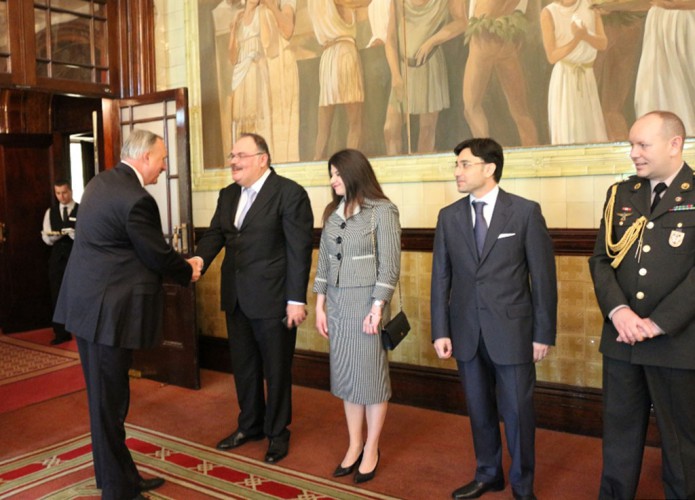 Azerbaijan`s embassy in London has hosted a reception marking Republic Day.
Representatives of the diplomatic corps in the UK, members of House of Lords, government officials, representatives of UK-based Azerbaijani organizations, and public figures attended the event, AzerTac state news agency reported.
Ambassador Tahir Taghizade provided an insight into the history of Azerbaijan Democratic Republic.
He hailed Azerbaijani-UK relations in political, economic and cultural areas, describing the UK as "a reliable partner" of Azerbaijan.
Taghizade highlighted Azerbaijan`s role in strengthening the energy security of Europe.
He also drew the audience`s attention to the first European Games to be held in Baku this June.
Director for Eastern Europe and Central Asia at the Foreign and Commonwealth Office Michael Tatham congratulated the people of Azerbaijan on Republic Day. He applauded UK-Azerbaijani ties. Tatham called the first European Games a remarkable sport event.
Head of SOCAR UK office Rufat Afandiyev spoke of the company`s activity in the United Kingdom.
The event saw Vice President of Azeri-Chirag-Gunashli project Carroll Kearney receive "Taraggi" medal for his contribution to the development of oil industry of Azerbaijan.
The first independent democratic republic in the Muslim world, Azerbaijan, was established 97 years ago in 1918. Azerbaijan celebrates Republic Day on May 28, the day when the country was proclaimed for the first time. It is one of the brightest pages in the history of Azerbaijani people, which commemorate the country unification.
---
Follow us on Twitter: @Azernews