Azerbaijan, UNDP mull water scarcity, flood threats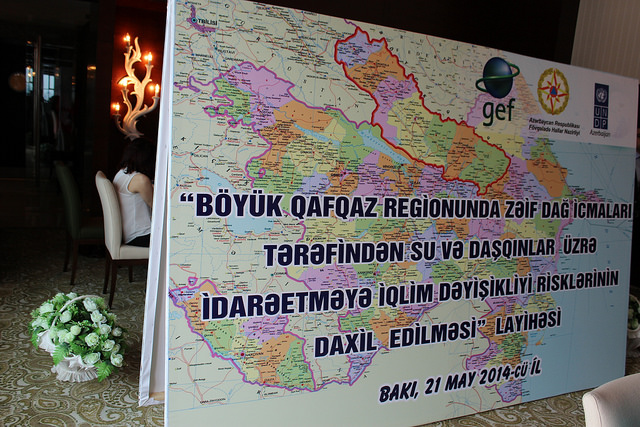 By Sara Rajabova
Azerbaijan's Emergency Situations Ministry and UNDP has discussed the climate change risks into water and flood management in the Greater Caucasus Region.
The United Nations Development Program (UNDP) and the Ministry held a seminar regarding this issue on May 21.
The seminar was held in the framework of a joint project on "Integrating Climate Change Risks into Water and Flood Management by Vulnerable Mountainous Communities in the Greater Caucasus Region", between the UNDP and the Ministry.
The 2013 Activities Report was presented and future events and plans were discussed during the meeting.
A visit conducted by international experts under the project and their activities were presented to the participants and a future action plan was discussed.
UNDP Program Manager Mezahir Efendiyev mentioned the successful implementation of the project's goals and future planned achievements.
Highlighting the importance of such projects, Tapdig Amiraslanov, Deputy Minister of Emergency Situations, voiced the ministry's interest in cooperation with UNDP.
In this turn, Nato Alhazishvili, UNDP Deputy Resident Representative, said the organization would always support such efforts in this field.
Afterwards, Farid Abbasov, Senior National Adviser, informed the participants on activities done under the project and future plans.
David Milton, Senior Technical Advisor gave a detailed presentation on the Project's Strategic Development.
The meeting was led by discussions following the presentations given by national and international experts.
The representatives of the Ministry of Emergency Situations, UNDP, the Ministry of Ecology and Natural Resources, the Ministry of Agriculture, State Agency of Water Resources under MES, AzerSu OJSC, Azerbaijan Melioration and Water Management OJSC and the State Committee of Land and Cartography and the media attended the seminar.
The object of the project, which has been implemented since 2012, is to reduce the vulnerability of mountainous communities of Azerbaijan towards water scarcity and flood threats by improving water and flood management.
The project is also designed to improve the management at a legislative and policy level, to enhance the institutional capacity and to hold trainings for active participation of communities in water and flood management.