Azerbaijan, Turkey praise bilateral military ties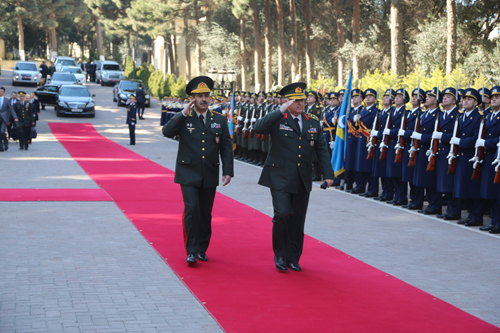 By Sara Rajabova
Bilateral cooperation between Azerbaijan and Turkey in the military field was praised during a meeting of the two countries' military officials.
Azerbaijani Minister of Defense Colonel General Zakir Hasanov met with Chief of the Turkish General Staff and Commander of the Turkish Army Necdet Ozel on April 1.
Touching upon the military and political situation of the region, Hasanov said the Armenia-Azerbaijan Nagorno-Karabakh conflict was a major threat to regional stability.
He stressed the importance of solving the conflict in compliance with the norms and principles of the international law.
The Nagorno-Karabakh conflict emerged in 1988 when Armenia made territorial claims against Azerbaijan. Since a lengthy war in the early 1990s that displaced over one million Azerbaijanis, the Armenian armed forces have occupied over 20 percent of Azerbaijan's internationally recognized territory, including Nagorno-Karabakh and seven adjacent regions.
The UN Security Council's four resolutions on Armenian withdrawal have not been enforced to this day.
Peace talks, mediated by Russia, France and the U.S. through the OSCE Minsk Group, are underway on the basis of a peace outline proposed by the Minsk Group co-chairs and dubbed the Madrid Principles. Negotiations have been largely fruitless so far.
At the meeting, Ozel said bilateral ties between the two fraternal countries were based on their historical roots and friendship traditions, adding that Turkey is an important strategic partner of Azerbaijan.
The sides discussed the prospects of relations between the armed forces of Azerbaijan and Turkey and other issues of mutual concern.
During the meeting, Ozel was presented with the "For Distinction in Military Service" order of the Republic of Azerbaijan for his contributions to strengthening military cooperation between the two countries.
Turkish Ambassador to Azerbaijan Ismail Alper Coskun was also present at the meeting.
Azerbaijan-Turkey relations have always been strong due to a common culture and history and the mutual intelligibility of Turkish and Azerbaijani languages.
Turkey was the first country in the world to recognize Azerbaijan's independence in 1991 and has been a staunch supporter of Azerbaijan in its efforts to consolidate its independence, preserve its territorial integrity, and realize its economic potential that arise from the rich natural resources of the Caspian Sea.
The countries share a short 8 km border, with the Aras River separating Turkey from the Nakhchivan exclave.
Turkey cut diplomatic ties and closed its border with Armenia after the country invaded Azerbaijan's territories.
Turkey set Armenia's withdrawal from Nagorno-Karabakh and 7 surrounding regions of Azerbaijan as a precondition for establishing diplomatic relations with the country.