10 May 2013 11:49 (UTC+04:00)
553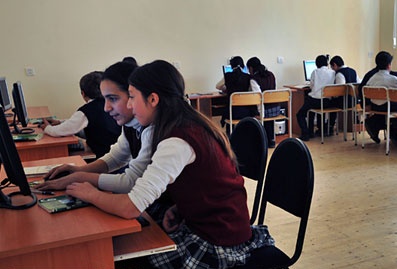 By Nigar Orujova
The Azerbaijani Education Ministry has developed a new state program on education system informatisation for 2013-2020.
The ministry reported that the document was submitted for the Cabinet of Ministers approval.
According to the report, works in the frame of the previous 2008-2012 state program are completed and some 38,400 personal computers were presented to schools during the four years.
Currently, one personal computer accounts for 16 students in Azerbaijan. The index is expected to be reached one computer per five students in the near future.
Meanwhile, the localization of the educational program Vitamin was mulled in Baku at a meeting of a Turkish delegation, led by Chief Executive Officer of telecommunications company Turk Telecom, Tahsin Yilmaz, with Azerbaijani Communications and Information Technologies Minister Ali Abbasov on May 7.
Yilmaz said that the localization of the educational program Vitamin by Turk Telecom could be a positive experience in the educational system of Azerbaijan.
Vitamin, which is the interactive educational software, supports the generalized application of educational technologies at schools.
The meeting also discussed the development of e-government, e-health, e-learning and other e-services.
Türk Telekom first offered Vitamin free of charge to 33,000 public primary schools during the 2008-2009 educational period. Around 150,000 teachers used Vitamin, around 600,000 students have made free use of Vitamin up to the present day. Around 9 million students utilized Vitamin, which contains subjects like Mathematics, Physics, Chemistry, Biology, Language & Expression and History, free of charge until now.
2013 was declared the Year of ICT in Azerbaijan and the ICT University was established under a presidential order on February 2.
ICT is also applied in the education system of the country. A new internet education portal for schoolchildren, www.oxu.tv, was opened recently in Azerbaijan.
Oxu.tv is a national education project and a comprehensive internet television portal. The project envisions broadcasting video lessons,which will cover all school subjects taught in Azerbaijani schools and strengthen the basis of secondary education in Azerbaijan, broadening school students' opportunities to take classes on a high level.
In January, the Education Ministry also supported the idea for creation of a common educational TV channel of Turkic speaking countries.
Related News