Sumgayit events received no objective legal assessment, Azerbaijan says [UPDATE]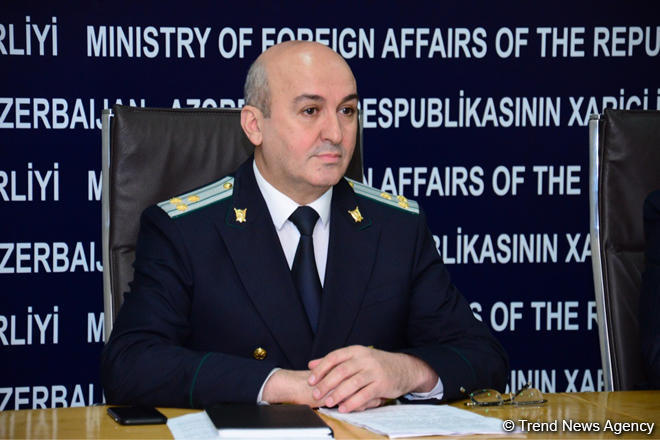 By Trend
As a result of investigation and trials in 1988-1990 over the mass clashes organized in Azerbaijan's Sumgait city, these events received no objective legal assessment, their true organizers and the ones who ordered them weren't brought to responsibility, Eldar Sultanov, head of the press service of the Prosecutor General's Office of Azerbaijan, said Feb. 22 in Baku at an event dedicated to the 30th anniversary of the Sumgait events.
In his speech, Sultanov noted that the crimes committed by Armenian and pro-Armenian forces in Sumgait city are part of terror, genocide and ethnic cleansing policy pursued by Armenia for many years against Azerbaijanis, adding that these crimes are also a part of policy of territorial claims against Azerbaijan.
"Over the years, Armenian separatists have been referring to Sumgait events in order to justify their aggressive policy, the Khojaly genocide and other crimes committed in Azerbaijan, resorting to distorting facts, falsifying documents and other nefarious methods to present lies as truth," Sultanov said.
He noted that immediately after these events, an anti-Azerbaijani information campaign was launched in Armenia, in the Soviet press and at the international level.
He said that the study of criminal cases, according to which the investigative and operational group of the Prosecutor General's Office of the USSR held the investigation, showed that the investigation was biased and incomplete, and the true essence of the events wasn't disclosed.
"The participants of the crime weren't fully identified, while the organizers of these events weren't brought to responsibility, no measures were taken to identify and prosecute them, the cause and conditions of the crime weren't investigated at all," he added.
"The investigative and operational group of the Prosecutor General's Office of the USSR, which included 231 investigators from various republics and security officers, collected a large volume of materials and many persons were brought to justice," he said. "However, the versions put forward at the beginning of the investigation that the Armenians were allegedly injured and the Azerbaijanis were guilty caused biased conduct of the investigation and served a certain political order."
---
Follow us on Twitter @AzerNewsAz