Azerbaijan's Republic Day and Armed Forces Day marked in London [PHOTO]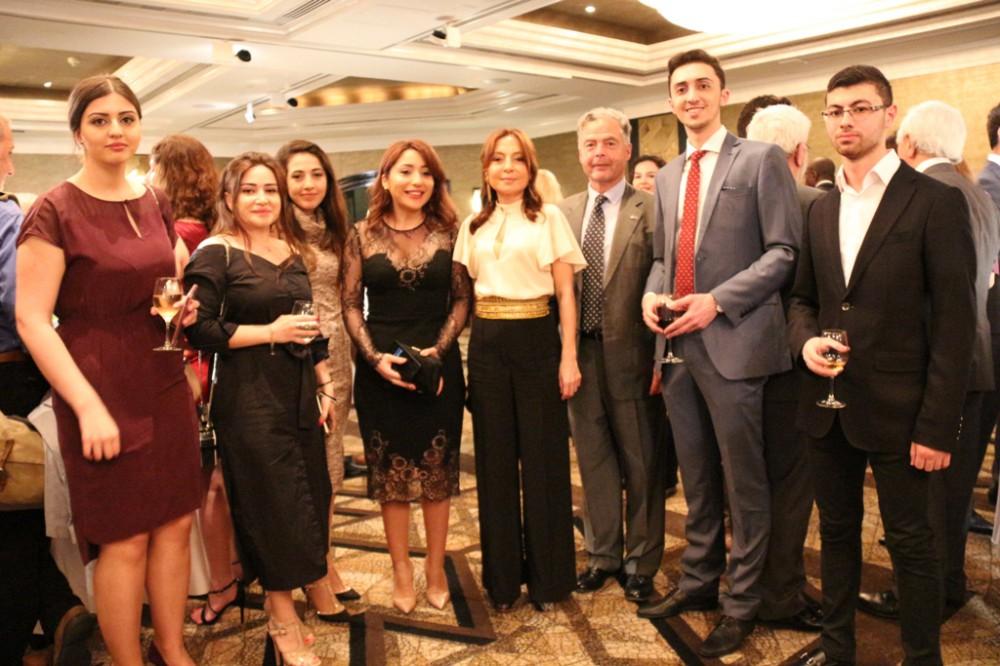 The Embassy of Azerbaijan in the United Kingdom has organized an official reception to celebrate the Republic Day and the Armed Forces Day.
The 25th anniversary of the establishment of diplomatic relations between Azerbaijan and the UK was also marked as part of the event, Azertac reported.
Co-chair of the Anglo-Azerbaijani Society, Rector of the Baku branch of Moscow State University named after M. V. Lomonosov, professor Nargiz Pashayeva attended the event.
The reception brought together nearly 300 participants, including the British government and state officials, representatives of the diplomatic corps accredited in London, local public, and members of the Azerbaijani and Turkish communities.
Azerbaijani violinist Nazrin Rashidova first performed Azerbaijan's and UK's national anthems.
Addressing the event, Azerbaijani Ambassador to the UK Tahir Taghizade expressed his condolences to the relatives of the victims of recent terrorist attack in Manchester.
The Ambassador then highlighted the history of the establishment of the first democratic Republic in the East. Ambassador Taghizade hailed the Azerbaijan-UK bilateral relations and reciprocal official visits. He expressed his gratitude to the co-chairs of the Anglo-Azerbaijani Society Nargiz Pashayeva and Lord German for the activities of the Nizami Ganjavi Scientific Centre at the Oxford University and for the establishment of the British Foundation for the Study of Azerbaijan and the Caucasus.
In her remarks, British Prime Ministerial Trade Envoy for Azerbaijan Baroness Emma Nicholson highlighted her visit to Azerbaijan. She hailed the Azerbaijani music and the hospitality of the Azerbaijani people, saying she learned a lot about the history and culture of the country during her visit.
Director for Eastern Europe and Central Asia in the Foreign and Commonwealth Office Michael Tatham thanked President Ilham Aliyev and the people of Azerbaijan for the condolences and solidarity messages over the tragic events committed in Manchester. He described Britain as one of the biggest investors in Azerbaijan. Mr Tatham underlined British companies' interest in operating in Azerbaijan. Michael Tatham hailed the great potential for further development of bilateral relations, saying the British government is keen to enhance ties with Azerbaijan.
The event participants then viewed the Azerbaijani stand which demonstrated the books and magazines highlighting the socio-economic development and tourism potential of the country.
---
Follow us on Twitter @AzerNewsAz