5 December 2012 10:17 (UTC+04:00)
1 309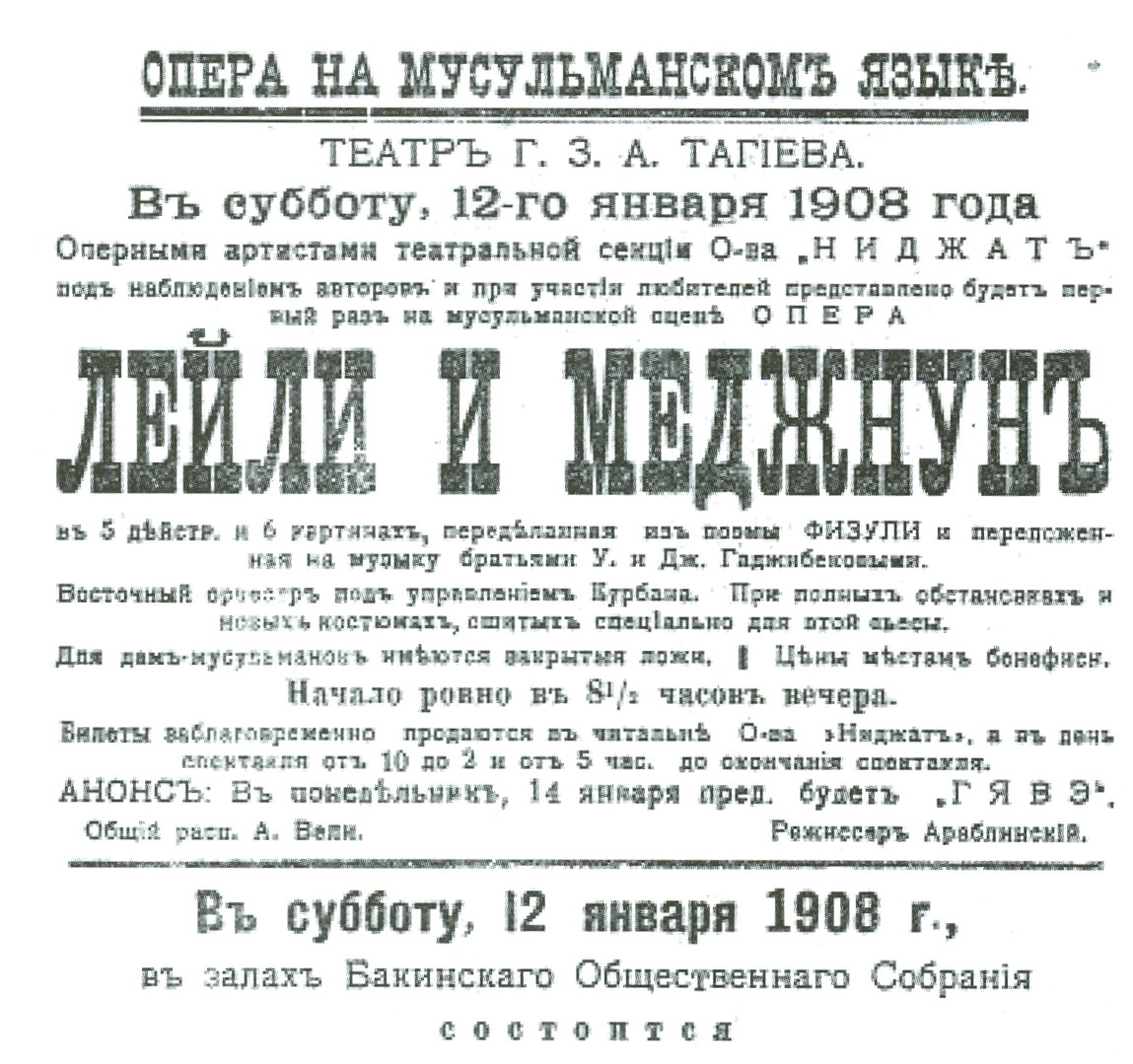 By Seymur Aliyev
The first democratic republic in the East, the first subway in the Oriental world, the first women's suffrage in the East. Azerbaijan has always been a pioneer country in the Orient in no way inferior to Europe. Genesis of the first opera in the Muslim world is also attributed to Azerbaijan, which boasts abundant cultural values and traditions.
Shape-up of opera started in Azerbaijan at the beginning of the last century. The basis of opera art was laid on January 12, 1908 with great Azerbaijani composer Uzeyir Hajibayov's work "Leyli and Majnun", which was staged at the Haji Zeynalabdin Taghiyev theater.
The idea gained a more realistic shape in Baku after performances by Russian and Italian groups, Jeyhun Hajibayov, co-author and brother of Uzeyir Hajibayov, wrote in his memoirs. According to him, the works Romeo and Juliet, Tristan and Isolde, La Traviata and Tosca all have a common theme, the same as Leyli and Majnun, and they made a deep impression upon him and his brother.
"We became more familiar with opera performance in Baku," he wrote. "The vague idea conceived in Shusha [an Azerbaijani town occupied by Armenians] reappeared in Baku and belonged to my brother. He shared ideas with me and asked my opinion about the venture, firstly in general terms, then in more detailed creative terms."
The Hajibayov brothers used mughams (folk music) for individual vocal parts as well as "tasnifs" derived from folk music or original tunes.
When the opera was created, a serious problem emerged. The Hajibayov brothers had to fulfill the daunting task of finding Azerbaijani actors who could sing in this opera. Such actors were not available at the time. There were drama and comedy actors who had no voice, and none of mugham singers had appeared on stage. Moreover, the part of Majnun was not an easy one; it required some complex acting. It was also difficult to find the right person for Leyli's character because at that time Muslim women did not perform on stage.
At last, after a long search and consulting friends, Mammadhuseyn Sarabli was deemed the right person for the role of Majnun. Sarabli was a servant of the city council, had a very pleasant voice and had performed several times in amateur playwrighting.
The role of Leyli was assigned to the Hajibayovs' cousin, Ahmad Badalbayli; his slender waist, short height and delicate, high voice could create the illusion of femininity.
For a long time, until the Soviet government was established, Azerbaijani national opera developed thanks to the works of U. Hajibayov - "Sheikh Sanan" (opera, 1909), "Husband and Wife" (musical comedy, 1909), "Rustam and Zohrab" (opera, 1910), "If not this, then that" (musical comedy, 1911), "Farhad and Shirin" (opera, 1911), etc. In subsequent years, Zulfugar Hajibayov ("Ashiq Garib", 1916), Muslim Magomayev ("Shah Ismail", 1919), Afrasiyab Badalbayli ("Nizami", 1948), Fikrat Amirov ("Sevil", 1955) and other well-known composers contributed to the national opera art. The works of the mentioned authors, in particular, U. Hajibayov, are currently part of the repertoire of the National Opera and Ballet Theater.
The building of Azerbaijan Opera and Ballet Theater is as remarkable as the first Oriental opera. The theater was built at the request of millionaire Daniel Mailov and funded by oil tycoon and philanthropist Zeynalabdin Taghiyev. According to an urban legend, Mailov and his brother were not invited to a housewarming ball of a famous opera singer from Baku whose new house (now the head office of SOCAR) was one of the most outstanding pieces of architecture in the city. The Mailovs therefore decided to construct a building of their own surpassing the "tactless" singer. In 1910, famous Russian soprano Antonina Nezhdanova visited Baku, giving several concerts at various clubs and other venues. During a ball organized at a local casino on the occasion of Nezhdanova's departure, she was asked whether she would like to visit Baku again. Her reply was negative due to a concern that in a city of so many wealthy people no one would fund the construction of a decent opera theater where singers could fully demonstrate their musical talent. Daniel Mailov, who had grown to admire both Nezhdanova's voice and persona, during her tour decided to use this opportunity and offered her to revisit Baku in one year to attend the opening of a new opera theater, which he would order to build in her honor.
During different periods many world famous artists, including Fyodr Shalyapin, Leonid Sobinov, Valeri Barsov, Irina Arkhipova, Elena Obraztsova, Maria Biesu, Maya Plisetskaya, Vyacheslav Gordeyev, Zurab Sotkilava, Vladislav Pyavko, Montserrat Caballe, Anastasia Volochkova, Svetlana Zakharova and others, performed at the Opera and Ballet Theater.
In 1959 it received the status of an academic theater.
Opera is one of the most difficult types of theatrical art. The home of opera is Italy. It appeared as part of mysterious religious performances, and the musical part of the mysteries was called opera.
Related News