Reza Deghati demonstrated Armenia's atrocities throughout his photo exhibition in Belgium [PHOTO]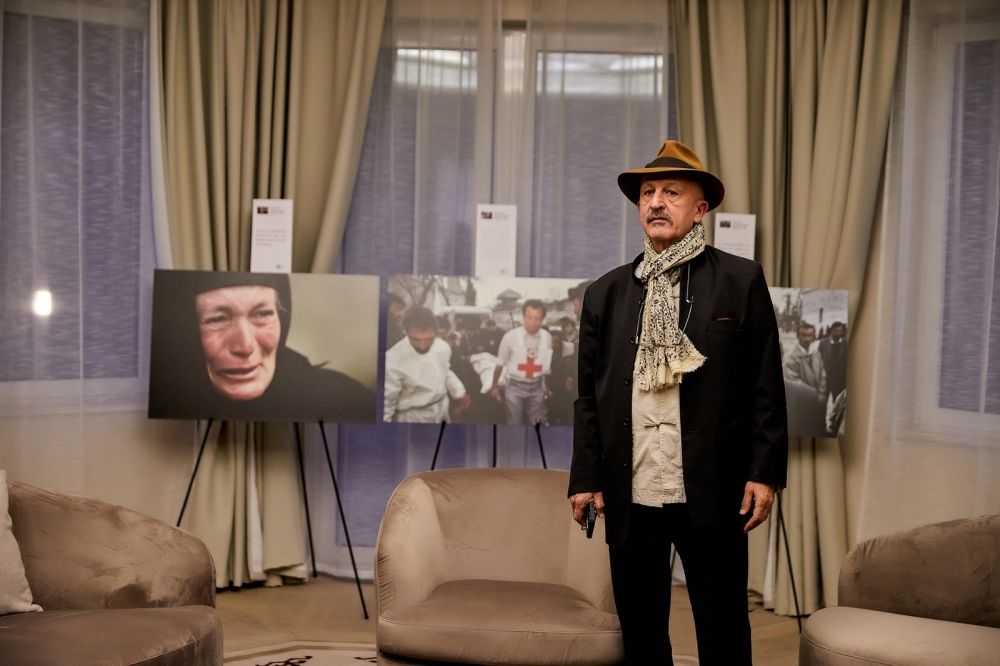 Renowned photographer Reza Deghati has shown Armenia's atrocities throughout photographs in Belgium.
His photo exhibition "Khojaly: Wounded souls" opened at the Azerbaijani Embassy in Brussels, Azernews reports.
First, the Azerbaijani Ambassador to Belgium Vagif Sadig welcomed the guests of the event.
Vagif Sadig provided insight into the Khojaly genocide, which took the lives of 613 civilians.
In 1992, the town of Khojaly came under intense fire from the towns of Khankandi and Askaran already occupied by the Armenian armed forces.
Some 613 civilians, mostly women, and children were killed in the massacre, and a total of 1,000 people were disabled.
Eight families were exterminated, 25 children lost both parents, and 130 children lost one parent.
Moreover, 1,275 innocent people were taken hostage, and the fate of 150 of them remains unknown.
In his speech, Reza Deghati said that he had chosen the profession of photojournalism because of his love for humanity.
The photographer outlined that wars, natural disasters, and crises that cause the death of people, and the destruction of buildings, historical monuments, and critical infrastructure leave irreparable wounds in the memories of the survivors.
For over 40 years, photographer Reza Deghati has captured thousands of powerful images that tell impressive human stories. Along with his powerful and weighty pictures, the world-famous photographer has always drawn the attention of the world community to the Azerbaijani realities.
Reza Deghati for the first time visited Azerbaijan in 1987. In 1997, he lived in Azerbaijan for several months and travelled across the country capturing the ordinary people in their everyday life, customs, and traditions of various people.
The photographer raised international attention to the atrocities committed by Armenia against Azerbaijan.
As a researcher at the National Geographic Society, Reza Deghati received a number of international awards.
In 2022, Azerbaijani President Ilham Aliyev awarded a renowned photographer with the Dostluq Order.
As a part of the event, the pianist, composer, and singer Nazrin Afandiyeva, granddaughter of Azerbaijan's prominent composer Fikrat Amirov, accompanied by Astrid Gallez (flute) and Marie-Carmen Suarez (violin), performed various classical and contemporary works by world-famous composers.
Representatives of the diplomatic corps, European Union officials, representatives of the media, as well as cultural and academic circles of Belgium, who attended the exhibition, were provided with detailed information about each photo work.
---
Follow us on Twitter @AzerNewsAz