17 January 2018 10:00 (UTC+04:00)
3 971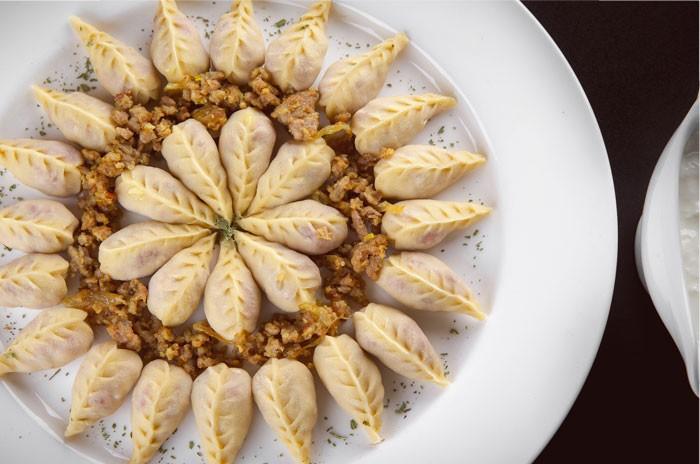 By Aygul Salmanova
Azerbaijan cuisine is one of the most interesting and original in the East. It is widely known among oriental cuisines, and some of its dishes have entered the menu of international cuisines.
But flour dishes take a special place among the national cuisine, which help to diversify the winter menu.
In Azerbaijan, especially in Baku and Absheron, one winter dish is very much appreciated, from which it is impossible to refuse a cold weather. Usually, several families come together to allow women to cook together with an excellent taste, called Gurza.
Gurza is one of the most remarkable dishes of the national cuisine which is similar to dumplings. Gurza is very similar to dushbara (national flour dish) but a bit larger and are usually served with bouillon. Both dishes are dumplings with minced meat, but gurza differs from dushbara with its beautifully twisted form.
The dish is named after the poisonous snake gurza (viper) as patterns on dumplings coincide in shape with a pattern on the skin of this snake.
Although the recipe for gurza has some regional differences, in general, the main ingredients of this dish are similar. To prepare gurza, you need one kilogram of the most juicy meat, lamb or beef. On a kilogram of meat 100 grams of fat, 5-7 onions, turmeric, salt and pepper.
Meat, fat, and onions are twisted through a meat grinder, salt and pepper are added and the minced meat is fried.
For a kilo of meat about four to five glasses of flour is required. One or two eggs, water and salt are added to the flour, the dough is kneaded, which is then left for half an hour.
The dough is rolled in large circles, which are then cut into smaller circles with the help of a glass. Minced meat is placed inside these circles.
Now you need to correctly make patterns and roll up the edges of the dough. This is necessary both for aesthetic beauty, and so that when cooking they do not open.
After making the patterns, a large pot of water is pawned. Water is poured in accordance with the number of dumplings, but most importantly - it should not be much, and the dumplings should not stick to each other.
The dumplings are dropped in boiling water and are cooked for a while, then in exactly the same way they are collected in a wide plate and served on the table.
All dumplings are dropped in the same bouillon, as a result of which it becomes very delicious soup that everyone is waiting for. Everybody gets a small portion of this amazing soup, which is seasoned with cilantro, sumac, and dried mint.
--
Follow us on Twitter @AzerNewsAz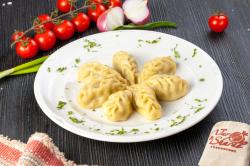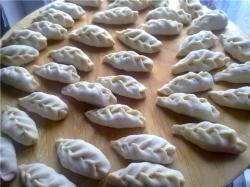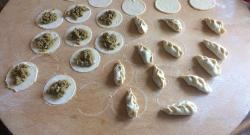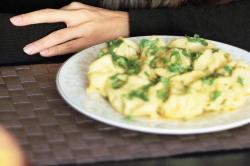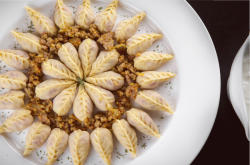 Category News