9 October 2015 13:50 (UTC+04:00)
1 195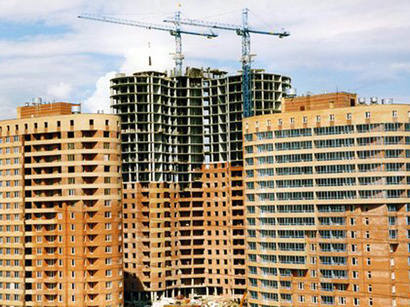 By Nigar Orujova
Azerbaijan plans to double production of building materials in the next five years, according to a draft concept of socio-economic development for 2016-2019, which is currently under review in the Parliament under the budget package.
"[In the following years], it is planned to expand the production of building materials and bring quality of the products to international standards. Supplementary investments will be raised in this area, as well as modern eco-designed technology introduced, and exports of local building materials promoted," the draft reads.
The government expects that in 2015, Azerbaijan will produce construction materials in the amount of 580.9 million manats and the growth of building material production will increase by 9.3 percent.
In 2016, these figures are expected to reach 636.4 million manats and 6.1 percent, respectively, and in 2017, the growth rate in the production of building materials could reach the double digits.
Thus, when the volume of production of building materials reaches 740.5 million manats, growth will be 13.1 percent, while in 2018 it could come to 910.8 million manat (20.3 percent increase), and 1,080 billion manat (16.2 percent) in 2019.
However, according to government forecasts, the construction sector is expected decline by 4.6 percent in 2016. The total volume of construction in the next year is expected to stand at $17,465 billion.
Earlier, Deputy Minister of Economy and Industry Sevinj Aliyeva said the decline of the construction sector continues against the background of cuts in public investments.
"Measures to attract additional sources of financing, the use of new financing mechanisms in the housing market and the expansion of mortgage lending are particularly important to revive the [construction] sector," she said earlier at a joint session of parliamentary committees.
The products of construction industry in Azerbaijan include cement, iron-concrete products and panels, cubic stones, brick, glass, slate, asbestos-cement pipe, heat-insulating polymer construction materials, linoleum, plumbing and chemical window and door products.
The majority of construction projects are centralized in Absheron due to the abundance of raw materials and high demand. Moreover, there are centers for construction material production throughout the country.
The construction market in Azerbaijan is now going through changes after recent economic shocks – a fall in oil prices, the devaluation of manat, etc. The overall standstill in the market continues as real estate prices fluctuate.
The market is expected to refresh in October-end, when the largest construction event in the Caspian region, the 2015 BakuBuild exhibition, will take place. Each year, the exhibition gives new drive for the development of the construction market both in Azerbaijan and abroad by strengthening partnerships between Azerbaijani and foreign manufacturers and consumers of building materials and services.
__
Nigar Orujova is AzerNews's staff journalist, follow her on Twitter: @o_nigar
Follow us on Twitter @AzerNewsAz
Related News